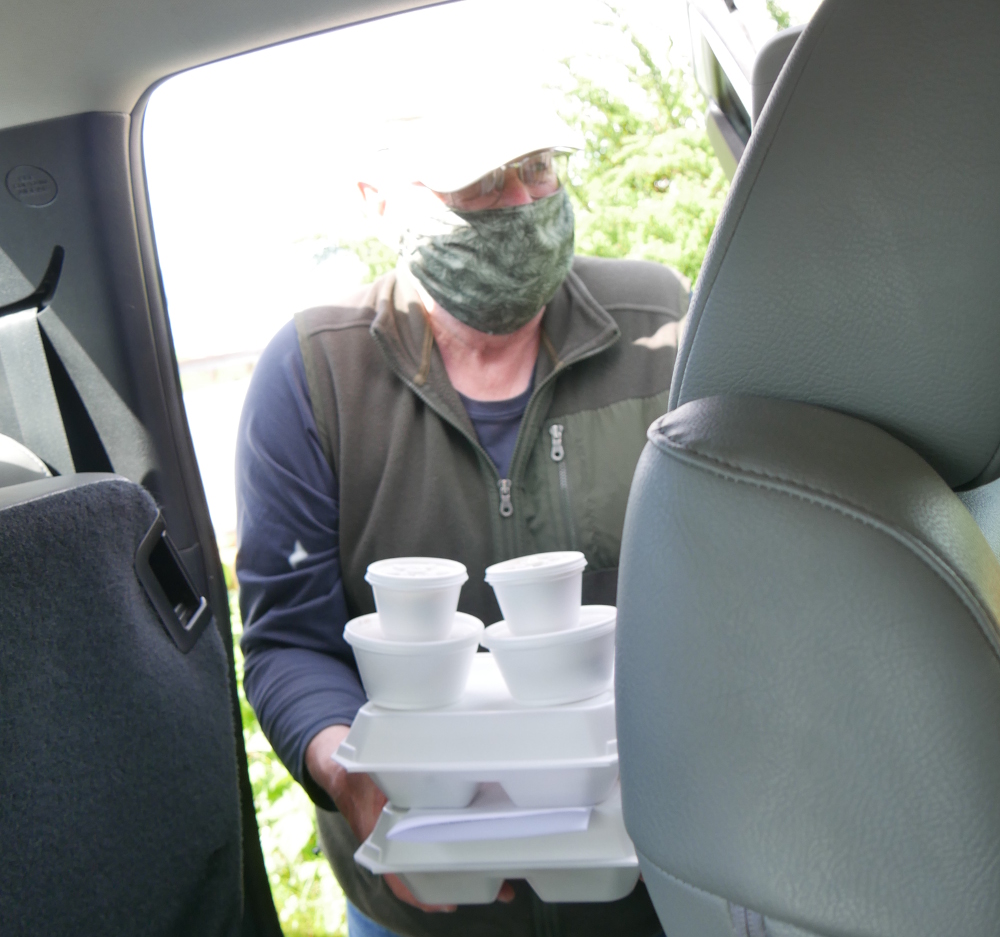 The COVID-19 pandemic has forced a program for low cost meals for seniors in Petersburg to a delivery-only mode. And for the past few months that delivery has been aided by the Petersburg Indian Association.
Meals are prepared five days a week by the non-profit Mountain View Food Service. Before the pandemic there was the option to enjoy a meal in person with residents of the borough's elderly housing and assisted living facility. These days it's delivery only for people 60 and older who don't live in one of those buildings. Delivery numbers vary, sometime topping fifty meals in a day. And the route now is often shared by drivers with the both the food service and the Petersburg Indian Association.
"This is a small group, it's only got 1," said driver and retired teacher Victor Trautman on a recent delivery afternoon. "It'll range between 11 and the most I've had was 29. And it varies about time of day and the menu."
Trautman has been a weekend driver for PIA's transit van. He agreed to work for them to help with the meal deliveries.
"Usually I can get it all delivered in about an hour and a half," Trautman said. "You know you want to get it so it's halfway hot."
Deliveries are from Sandy Beach to Scow Bay, a range of about five to six miles. Trautman knocks on the door for some residents, others have a meal dropped off in a specified spot.
The PIA is using COVID-19 grant money it received to pay for the deliveries, estimated around 10,000 dollars through the end of the year. That's emergency funding that has to be spent by the end of the year anyway.
Tribal administrator Tracy Welch said it is a great fit for the local tribal government.
"You know the transportation program continues to evolve her," Welch said. "We've recently brought on the elder transit program. So I think this was kind of a nice evolution of the program so to speak. Taking care of elders has always been a priority at PIA so I think this was a natural fit for us to kind of step in an assist where needed."
Welch said PIA worked with Mountain View Food Services to come up with a safe way to do the deliveries.
"They already had a system in place for their deliveries but they've kind of changed things over the time," she explained. "Now they are using containers that they send out to people to their individual homes. They put them in bags, delivering from a distance in some cases, our drivers wear masks. So it's as safe as possible in these trying times."
Welch says PIA has no problem assisting with the deliveries as long as needed. It's also a good fit for the driver Trautman, who gets his morning off to fish and is able to provide an important service in the evening.
Again those meals are available for people 60 and over Monday through Friday. Call 772-4331 by noon to order a delivery.