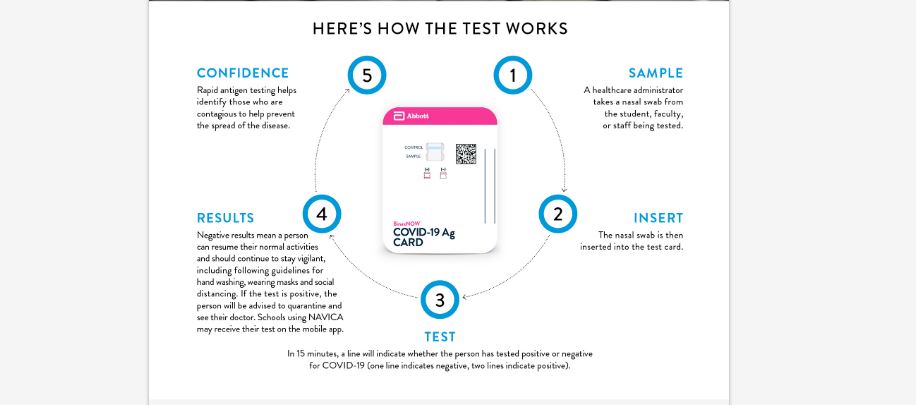 Petersburg School District will soon require rapid antigen testing for most high school athletes. Some districts in Southeast have already been doing this type of regular COVID testing but Petersburg hasn't needed to until the town's recent outbreak, which hit a high of 68 active cases by early March. As KFSK's Angela Denning reports, the new student testing was discussed at Tuesday night's school board meeting.  
Petersburg has too many active COVID cases for any sports right now. All games have been postponed and the whole basketball season is on hold. Other school districts will not compete with Petersburg until cases drop, says Superintendent Erica Kludt-Painter.
"We do not have any schools that will be eligible to travel here at this point and they don't want us to come to them either, just to be blunt," she said.
Activities Director, Jaime Cabral, echoed that sentiment. He says coaches are checking in with students but there has been no in-person practices.
"All of our activities right now have been in a stand still," Cabral said. "Our last get together was with our basketball kids on Saturday, the 20th of February, so it's been a while."
Soon–as long as Petersburg's case count keeps dropping–the district hopes to get back to in-person learning and sports with COVID protocols in place. Cabral says pretesting the athletes could allow them to compete even if there are still a few COVID cases in town.
"This might be the only way we could get back to competition yet keeping our kids safe, our opponents safe, our community safe as well as keep academics rolling as long as possible because I know the one biggest thing our kids do miss too is not just the activities portion but school itself," he said.
The plan is to test the athletes using a rapid antigen test nasal swab once a week at the school's nurses station. It would only involve high school students who are practicing in-person and could be traveling to compete in-person with other schools. This spring that could be just over 30 students in basketball, wrestling, and baseball. Students would be exempt if they've had the coronavirus in the last 90 days.
"It gives us the possibility of knowing our kids are not positive and keeping our activities and academics rolling as much as possible," said Cabral, "but also giving the comfort for other schools accepting us for travel."
The antigen results take 15 minutes. If it's positive then the student would be referred to get a PCR test. If PCR was negative they could rejoin the sport. If it was positive then they'd have to quarantine like other COVID positive students.
The antigen tests have been available through the state for a few months. Several other school districts in the region have been testing athletes regularly including Sitka, Mt. Edgecumbe, Haines, Skagway, and Juneau, according to Kludt-Painter. For the Petersburg district, the tests would be free through the local medical center.
Petersburg parent, Amanda Ohmer, spoke against the antigen testing saying that the district already has adequate measures in place like temperature checks, distancing, and masking. She says the district isn't giving parents an option.
"We would have to sign and say, 'Yes, test our children' in order for them to play sports," Ohmer said. "It's really not a choice."  
She was also concerned about possible sore noses and headaches from the weekly swabs.
Cabral says the swabs don't go into the nose very far.
"It's not even an inch," he said. "It's very close to what they're doing at the airport [testing tent]."
Although testing is not yet required by the state's activities association (ASAA) it could be soon, says Cabral. He says the state's board is considering requiring negative test results for state competitions. He says many regional events are looking at it as well.
"A lot of the region's schools are looking at it to be required before they come to participate in an in-person competition," Cabral said. "Some are making it part of their mitigation plan."
The state does, however, require athletes to mask when competing at indoor state tournaments. Cabral says Petersburg will be starting this at indoor practices as soon as they resume.
"We typically, as a region, follow what the state does for their state tournaments. That way are kids are used to the protocols that are in place," he said.
Masking outdoors will only be required if students are within six feet of each other.
Board member, Megan Litster, is the mom of a high school wrestler and she says she knows the students want to get back into sports.
"They want to play," Litster said. "They want to be practicing, they want to get out there and if this helps them do that safely and helps other communities feel comfortable with interacting with Petersburg–particularly considering recent circumstances–I think it seems like a no brainer."
School Board President, Sarah Holmgrain, says she sees the testing as a necessary hoop for students to go through in order to play, much like other health screenings.
"They all have to have updated health screenings so it's kind of along the same lines just because of the nature of the world," Holmgrain said.
The school district doesn't expect the testing to go into the fall. Superintendent Kludt-Painter says they are implementing it now because of the outbreak.
"This is really coming as a response to recent events," she said. "So, I think this is the mitigation plan for now, maybe it's for the spring and then, absolutely, I think everything just keeps getting reevaluated."
All the tests taken by students will be reported to the Alaska Department of Health and Social Services.
The school board plans to review the antigen testing at their regular meetings.
---
You can listen to the whole school board meeting here.