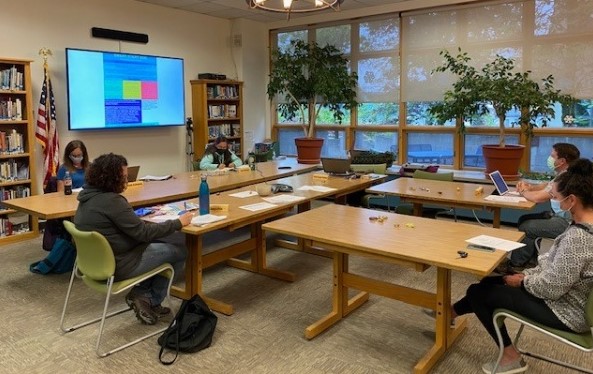 The Petersburg School Board is meeting Tuesday evening to go over budget revisions for this school year. They'll also be going over their timeline for a Return to School Smart Start Plan for next year.
The State's Department of Education is directing school districts to have their Updated Smart Start Plans announced to the public by June 23rd. It's tied to federal funding through the American Rescue Plan Acts. The plan must include details of how the district will safely return to in-person schooling in the fall.
The school board will also hear about new hires at the district as well as new positions for existing staff.
Superintendent, Erica Kludt-Painter, says they'll have a few less teachers in the elementary school than this year but still more than in recent years. They will drop from 17 regular teachers down to 14.
"We are retaining some of the positions that we added this year just knowing that there will still be some protocols in place this fall for class sizes and trying to be aware COVID protocols and what that will look like," Kludt-Painter said.
New teacher hires for the fall include:
Samantha Marifern for Swim and PE
Debby Eddy for 1st Grade
Laura Allison for 1st Grade
Ethan Bryner for 2nd Grade
Jamie Eddy for 4th Grade
Amy Wilkes for a combined 4th and 5th Grade
Casey Gates for 6th Grade
Several teaching positions at the elementary school will be shuffled around. They include:
Mary Midkiff moving from 2nd to 3rd grade
Becky Martin moving from 2nd to 3rd grade
Gregg Kowalski moving from 4th to 5th grade
Michelle Brock moving from 1st to 2nd grade
Stephanie Pawuk moving from 3rd grade to 4th -6th grade interventionist
Eliza Warmack 1st grade – K-3 Reading specialist/ Title 1 / English Language Learner (ELL) programs
Also, at the school board meeting, board members will be going over the board policy for professional boundaries of staff with students, which are recommended by the state.
The board will also be reconsidering its return-to-school travel protocols as it does at every regular meeting.
The regular school board meeting starts at 6 p.m. via Ring Central video conferencing. KFSK will be broadcasting the meeting live.
To listen to the meeting, you can stream it online at KFSK.org. The public can participate in the meeting during comments from the audience. Email the district office before the meeting to get the password for the videoconference. Those email addresses are: exec@pcsd.us or supt@pcsd.us. Or call the office at (877)-526-7656.
Here is a link to the full school board meeting agenda with meeting materials.