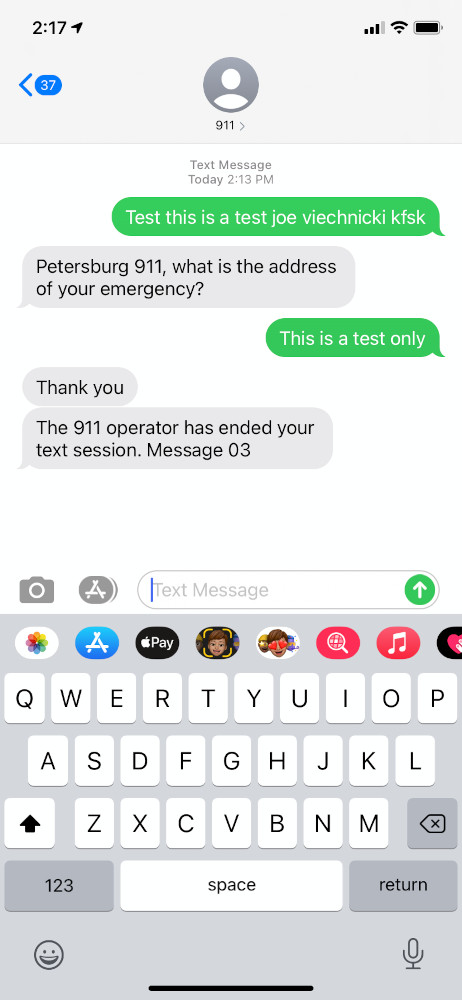 Petersburg police are now able to receive text messages to 911 from some people with cell phones.
Police chief Jim Kerr said this text-to-911, as it's called, went live Tuesday for customers of AT&T. It won't be available for cell phone users with GCI service until later this summer.
"Just like you're going to send a regular text message, you text 911 and then you put your message in like you would anything else and you can have a text message conversation with my dispatchers so that they can get help on the way to you," Kerr explained Wednesday.
The service offers an alternative to a phone call to police dispatch. That can be important in more remote parts of the island around Petersburg where cell coverage isn't strong enough to support a phone call but will allow a text.
"There's certain spots on the island or certain spots out there on the water, you'll have service, your phone will register service and then you think OK I can call someone but the call, it just call fails, it doesn't go through," Kerr said. "So now in those instances when you actually need help if it's an emergency, your text will go through and you can actually communicate with our dispatcher back and forth and we have some preset messages that they can fire them right back to the person automatically. And then we also have a spot to type free form messages to personalize each message or whatever we need to do we can do that as well."
Texts can also show dispatchers the location of a caller.
The borough paid a one-time fee of eight thousand dollars to the company Third Signal for the service. That money comes from a surcharge on phones that helps fund the borough's 9-1-1 service. Kerr said Wrangell also started offering text-to-911 as well.