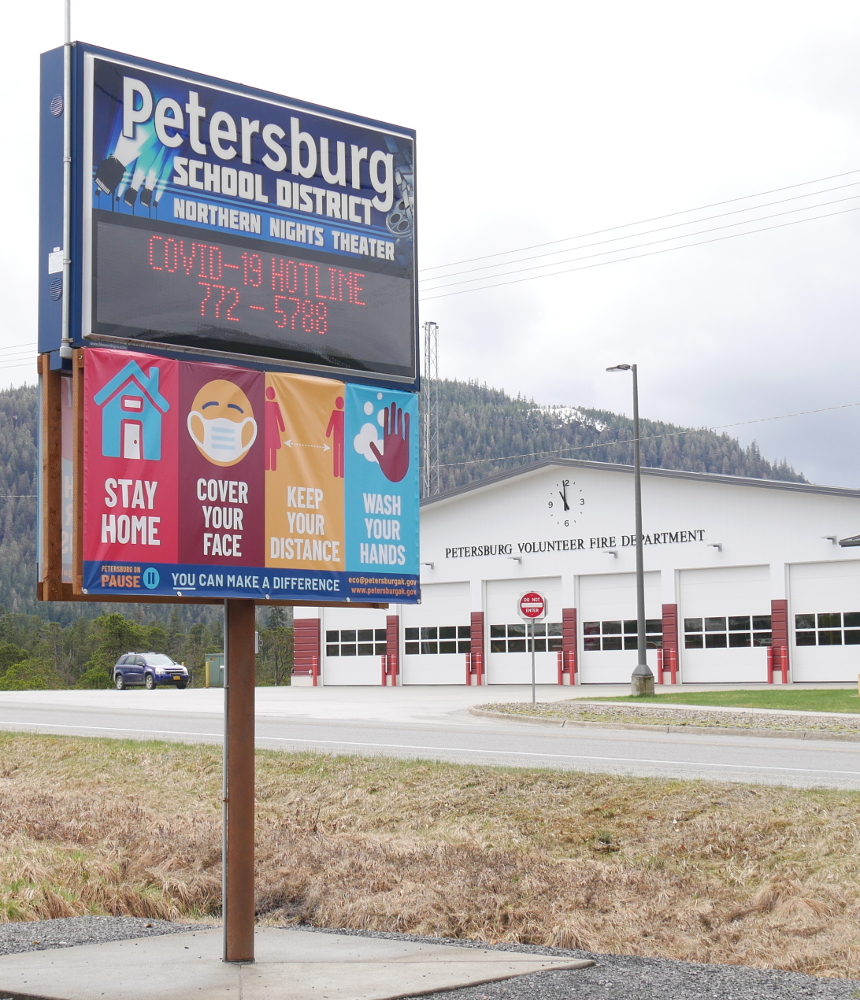 The Alaska Department of Health and Social Services on Friday reported Petersburg's second COVID-19 death of the pandemic.
The death was recent, a Petersburg man in his 70s, one of two reported by the state on Friday. In total, there have been 377 deaths of Alaska residents from the coronavirus since the start of the pandemic. Petersburg's first was in March of 2020.
Health professionals are urging anyone with symptoms of COVID-19 to get tested as soon as possible as case numbers increase across Alaska.
Petersburg saw its active case count hit 13 a week ago. That dropped to eight active cases by the end of last week. But doctors say the spread of the more transmissible delta variant is driving up numbers around the nation. The number of Alaskans hospitalized with COVID-19 is also increasing state health officials say. Statewide, the overall number of cases increased for the fifth week in a row.
Petersburg's hospital is seeing people coming to the emergency room with more severe complications and some people being medevaced out of town for more advanced care.
On a radio show Friday, Petersburg Medical Center physician Dr. Selina Burt explained the latest round of cases has been more serious.
"It seems like people can get sicker more quickly with delta," Burt said. "So you can seem like you're doing OK for a day or two and then all of a sudden get worse. We also have had to send more people out with this latest round than we have in the past, it seems like and even people who have been immunized are getting sick for the most part, they're not as sick as people who haven't been immunized."
Burt called on the community to take voluntary precautions to slow the spread of the coronavirus.
"So we really want people to be cautious, maybe even think about going back to using masks when you go to the grocery store or to the post office," she said. "Do the things that you can do to protect yourself from getting sick. And it has a domino effect to help the entire community, the entire state, the entire nation."
Burt said the delta variant can also have more mild symptoms, similar to the common cold, with some reporting a sore throat and no fever.
Doctors say they have more options if the illness is diagnosed early. If patients wait five days or more after symptoms show that can put them at greater risk for more serious complications. Dr. Coleman Cutchins is a pharmacist and COVID testing coordinator for the Alaska Department of Health and Social Services
"Anybody with any symptoms, regardless of vaccine status, it's important to get tested," Cutchins said. "You know the treatment options that we do have for COVID, the best ones are a class of drug called monoclonal antibodies. Those work best if given early. The best time to get those drugs and the best time to give them the best chance of work is to do it as soon as you start to get mild symptoms and as soon as you test positive. From there the longer you wait, the less likely that treatment's going to be effective."
The medical center urges people to stay away from others if you do have symptoms and call to arrange a test.
The phone number to call to get tested, or find out about symptoms, or get vaccinated is 772-5788.