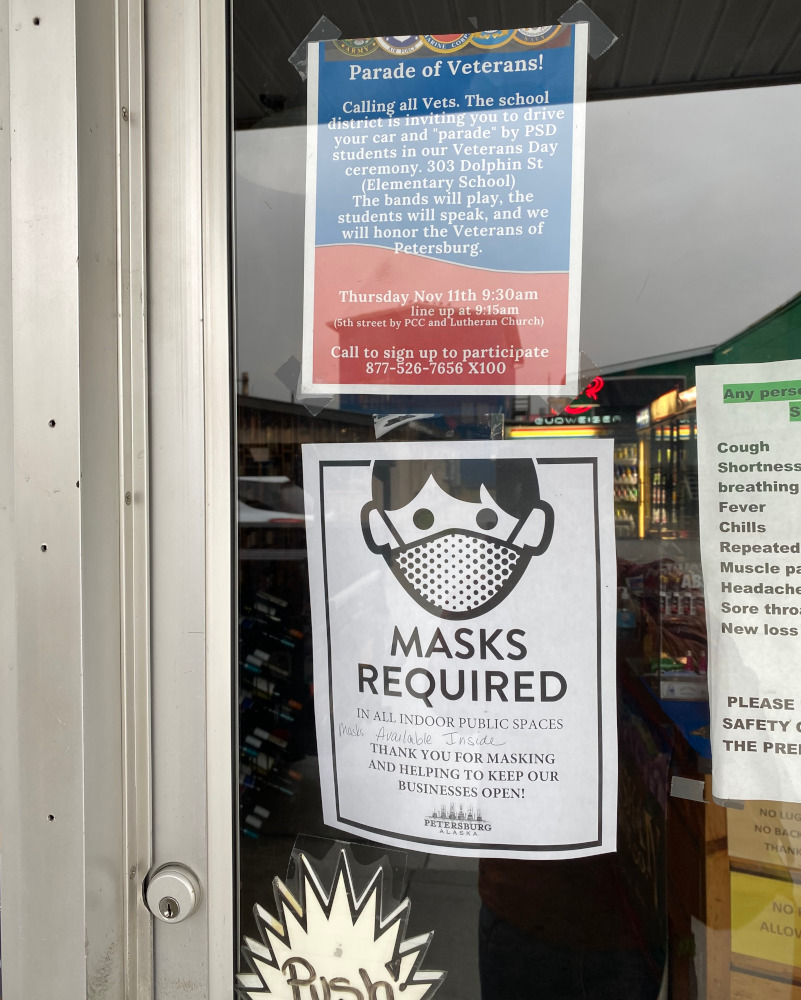 Petersburg's borough assembly Wednesday, November 17 passed a new emergency ordinance on masking that expands areas where face coverings are required during the community's largest outbreak of the COVID-19 pandemic. But the assembly removed proposed fines for businesses and individuals who don't comply, despite frustration that residents are ignoring mitigation measures and spreading COVID in the community.
On November 5th the assembly passed a temporary face covering requirement for all indoor public spaces. That did not contain specific enforcement measures for non-compliance. But fines were proposed in a new emergency law nearly two weeks later.
The proposal generated more than an hour of online public testimony against the measure.
Petersburg's police chief Jim Kerr gave his personal opinion that the emergency ordinance would drive his officers to leave.
"I used to say the quality of life and what Petersburg has to offer is what keeps officers here," Kerr told the assembly. "But if we start enforcing mandates and ordinances that divide this community further officers will move from Petersburg because of the quality of life and conflicts. Let me clear – I do not support enforcing mask mandates or ordinances."
This fall's outbreak of the pandemic has officers out sick with COVID-19 this month along with employees from other borough departments, local schools, day cares and businesses.
More than two dozen of those businesses and clubs signed a letter opposing the emergency ordinance saying they'd close their doors and put up a sign "closed due to government overreach" if the measure was approved.
Hammer and Wikan general manager Jim Floyd told the assembly he was COVID positive and opposed the enforcement by local businesses.
"We are not equipped to enforce what you're asking," Floyd said. "We're short on man power and resources, the same as we've heard from both the medical community and the schools. We are over-worked, stressed and stretched to the limit. In addition it is not right that we require employees to be the enforcers in addition to their normal job functions. The problem is that you are fighting human nature. People do not like being enforced upon ideals to which they do not believe in."
The proposed enforcement measures ran into opposition from organizations already taking steps to highlight the existing face covering requirement. Nathan Lopez, pastor of the Lighthouse Assembly of God Church, said his church has switched to online worship this past week but he could not support the enforcement.
"Our issue is not against the mask mandate," Lopez said. "It is against us being forced to deny admittance to people from coming into our church to worship together and we cannot do that."
The ordinance cited the continuing high case numbers in the community. It adds language to existing the face covering requirement to include communal spaces, workout areas, community events and private social clubs. It had fines of 50 dollars for individuals who refuse to wear a mask and 100 dollars for businesses and building owners that allow people inside without a face covering.
Assembly member Chelsea Tremblay asked for the new ordinance but said she did not intend for it to pass as drafted.
"This was basically me presenting options that we never used and hope to never use and I'm hoping that we can get to a productive place where we can figure out what would actually work because people are coming to us talking to us about personal responsibility as being the way that they see our way out through this and then we're actually not seeing that actually come into play in community action," Tremblay said.
The assembly passed a series of amendments proposed by Jeff Meucci. One removed fines and enforcement by businesses. Meucci said existing law already allows a business to call police to remove a non-cooperative customer.
"The borough government has enforcement capabilities with our police department," Meucci said. "They take care of the ordinance that we pass and the laws that we pass, they take care of that kind of that stuff. To ask the business owners to take on the enforcement part of an ordinance to me seems kind of flawed from the beginning. The business owners have the opportunity to refuse service to anybody that comes into their store."
Another change clarified that the requirement does not apply to private residences. Meucci also sought a verbal warning that would happen before a fine. That change failed. Bob Lynn proposed removing the fine for individuals, striking any fines from the new law. That passed. It leaves essentially the existing face covering requirement already passed. However, the new ordinance adds language clarifying the face covering requirement applies to any communal spaces. That includes exercise areas, community events, and meetings or gatherings at private social clubs and nonprofits.
Assembly member Dave Kensinger said his intent with the face covering requirement was to get everyone's attention about the seriousness of the outbreak. But he did not know if fines would make any difference.
"I didn't see this as something we're going to be living with 'til Christmas, but folks if you don't do what we need to do right now, we're going to be dealing with this all winter," Kensinger said. "So it's in your hands I guess. And a lot of people are right, we can't force you to do the right thing. You just have to figure that out on your own."
Kensinger encouraged the borough to continue education efforts about the requirement.
With the new revision and without the fines, the mask mandate is in place through December 6th unless the assembly votes to remove it earlier.
In the interest of full disclosure, assembly member Chelsea Tremblay is a former intern at KFSK and a current volunteer at the radio station where this story was produced. Hammer and Wikan is one of the many businesses that support KFSK as well.