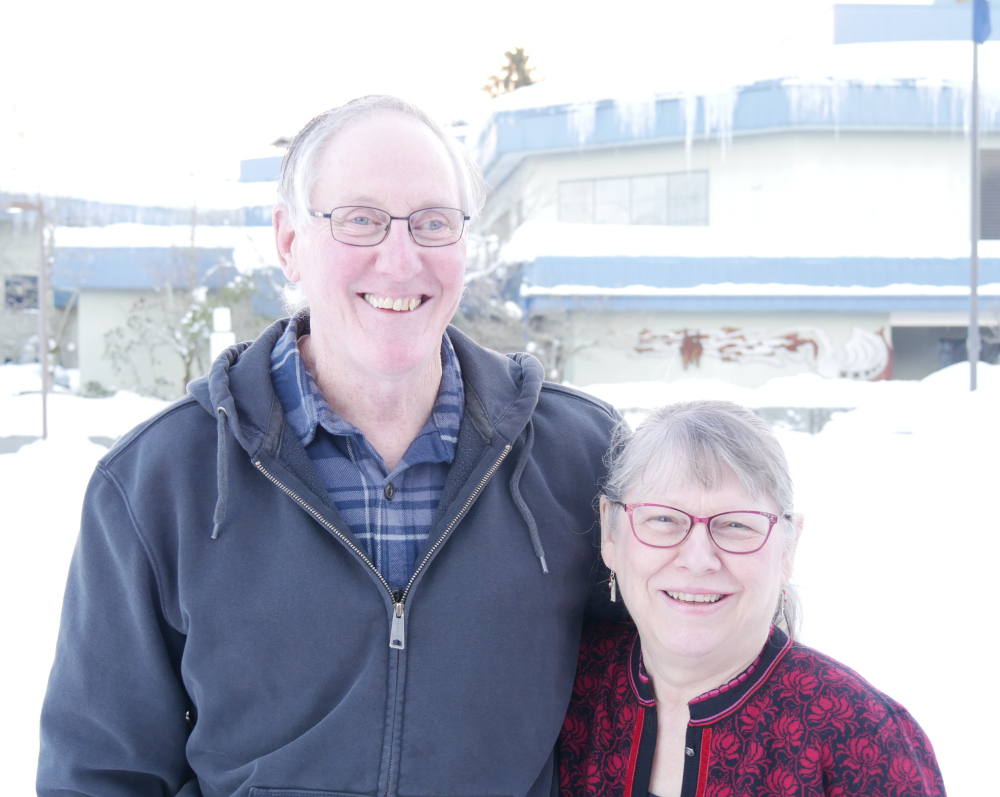 The January 6, 2022 edition of the Petersburg Pilot is the first in more than 45 years with the local weekly newspaper under new ownership.
The Pilot reported the sale in its final edition of 2021, changing hands from Ron and Anne Loesch to the new owner, Orin Pierson.
The Loesches are both originally from Oshkosh Wisconsin. He dropped out of college and studying journalism to take a job on the printing press at the Ketchikan Daily News. Three years later, in July 1976 he purchased the Pilot.
"It'd been my childhood dream, was to either own a printing company or a newspaper and at the age of 23 it finally came true," Loesch said. Now 69, Ron remembers the first edition he ever published in 1976 as probably his worst.
"Things were very difficult," he said of the early days. "I was the only employee other than one part time person and so I processed the film, wrote the stories, sold the ads, did the bookkeeping. It just was an endless chore until we could make enough money to start hiring people."
With no printing press here at the time, the paper was printed in Ketchikan. For about 15 years that meant putting the completed page layouts on the state ferry each week and having it delivered back to Petersburg by ferry.
"One night I overslept and I didn't get down to the ferry terminal to get the papers off the baggage cart and I had to hire Alaska Island Air to fly me up to Juneau to get the papers off the ferry," he said.
That was a pretty expensive mistake," laughed his wife Anne, who is 66. They got hitched in 1977 after she finished up nursing school near Chicago and after three years of a long distance relationship.
"I knew by then that, by the time we got married and he proposed that this was coming down the pike so but I had no clue," she said with a laugh.
Anne has worked many jobs at the Pilot and business supply store since marrying Ron in 1977. For her it's meant bookkeeping and running the business, editing stories late at night and other roles.
"You know just delivering papers," she said, "every once in a while we'd pulled into the press room which is definitely not my cup of tea. But yeah it's been whatever needed to be done you ended up doing."
The Pilot has brought many reporters to Petersburg from the lower 48 over the years. It's also employed countless others in other jobs, on the press, layout and even a first job for kids selling newspapers on main street on Thursdays. The printing press that's used now was installed in 1985 and has since been expanded with more printing units for larger pages and color.
"Somewhere along the line, the tiny little newspaper that we bought back in '76  grew and grew and somewhere along the way it added up to more than the sum of its parts," Ron said. "It became more of an institution than a business and that's been gratifying to see."
The Loesches also owned the Wrangell Sentinel but sold that last year.
The couple say they've been thinking of getting out of the newspaper business for about eight years. They had no interest from their two daughters. Potential offers from buyers both out of town and locally fell through before they started talking with 37-year-old Orin Pierson. He had started work at the Pilot in 2006 in page layout and press-press work before taking on other roles over the next decade. He moved up the hill to work at KFSK radio for about five years. During that time he also earned an undergraduate degree at University of Alaska Southeast. And he's nearly finished with a master's degree in literary non-fiction writing through the University of Alaska Anchorage. In 2021 the Pilot hired him back as general manager.
"Anne and Ron have been here for so long putting in incredible work," Pierson said this week. "Ron took on this newspaper 45 years ago and it's hard to imagine him being gone for even a single week for production in all those 45 years. So it was an absolutely moving moment when we got his last edition off the press on Thursday morning. And I'm just so proud of them for all their hard work. It's an honor to try to carry on a legacy of good community newspaper like this."
Pierson said the timing was right for the purchase. He declined to say how much he paid other than to say it will take him a long time to pay it off. He has purchased all the company's stock and assets, including the printing press and the office supply business that will continue on main street. The Loesches keep ownership of the downtown buildings for the businesses.
Pierson said he doesn't foresee any large changes to the paper.
"Nothing too drastic I have in mind, you know just carrying on a good community newspaper well into the future and being resilient and adaptive as need be," he said. "You know we've got, equipment's in good shape, team's in good shape, business is good. So I'm hopeful that we can keep things stable."
The Loesches plan to stay in Petersburg, look forward to spending the day at their Sandy Beach home and spending time with grandchildren.
The first week of 2022 is the first in over 45 years that the couple are not on deadline to get out Thursday's edition.
"Every month when I turned the calendar I would take a magic marker and draw the line down Thursdays," Ron said. "Our lives were controlled by the Thursday publication date and for the first time when I turned the calendar over to January, I didn't draw the lines down the Thursday, it's liberating."
He plans to continue with his boat tour business and said his contribution to the editorial page will now be limited to letters to the editor, instead of his weekly editorial.
The author of this story, Joe Viechnicki, worked for the Petersburg Pilot from 1996-1999 and worked with Orin Pierson during his time at KFSK, where this story was produced.