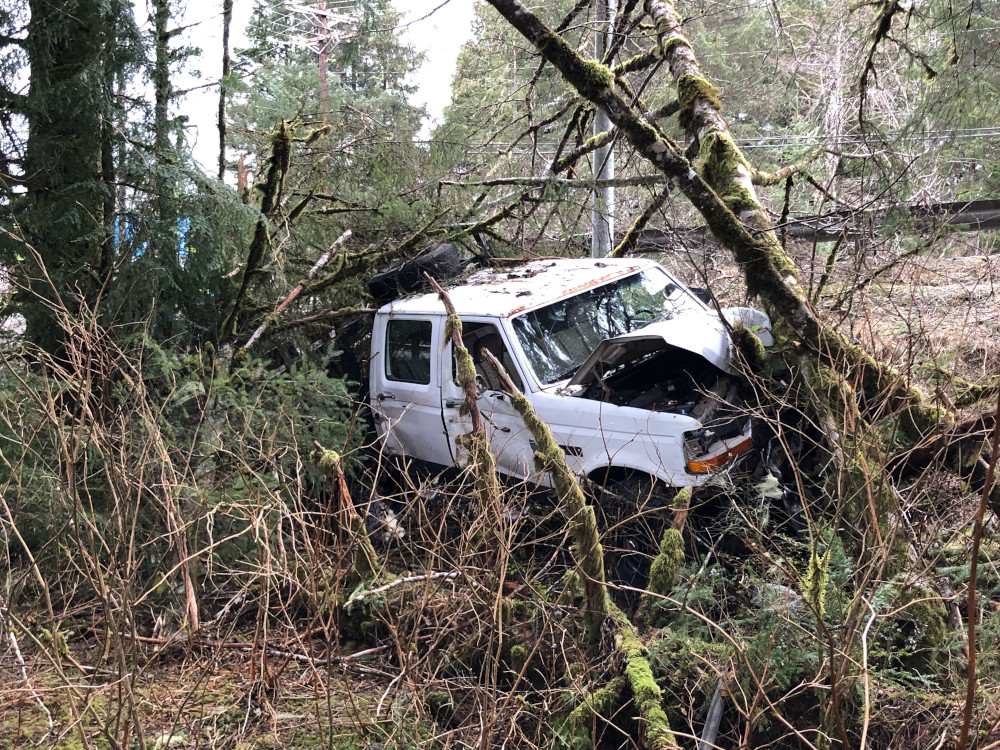 The driver of a truck that went off the road in Scow Bay Saturday morning was not injured in that accident.
Volunteers with fire and emergency medical services responded around 8:30 Saturday to three and a half mile of Mitkof Highway, near the entrance to the Scow Bay Loop Road. The truck went off the highway on the Wrangell Narrows side, heading south.
Petersburg Volunteer Fire Department spokesman David Berg said the driver reported having problems with the brakes after driving in from 10-mile and turning around in the ferry terminal parking lot.
"Not really clear if it was both the brakes and the accelerator but she turned around in the ferry terminal parking lot and then proceeded back out the road looking for a place to stop the vehicle, some sort of hill that she could drive up where the vehicle would naturally stop on her own," Berg explained. "When she got to the top of the hill heading down into the Scow Bay Loop Road area, she realized that if she shut the car off then it would perhaps roll to stop. Unfortunately she couldn't control the car after she shut it off as the power steering stopped working and the vehicle went off the side of the road into the trees."
The driver was wearing a seat belt and was not injured. She and her dog were able to climb out of the wreck.
Berg's advice in hindsight is to turn the ignition off but not all the way.
"If the vehicle is uncontrollable then the best idea is to turn your flashers on and turn the vehicle off," he said. "You know one click of the key in the ignition will allow the engine to stop but yet you'll still have, your steering won't lock up. Yes you'll lose your power brakes, you will lose your power steering, power brakes but you'll be safe as the vehicle goes to a stop. Hopefully you can navigate off the side of the road if that's safe."
Petersburg Police and Alaska State Wildlife Troopers also responded.