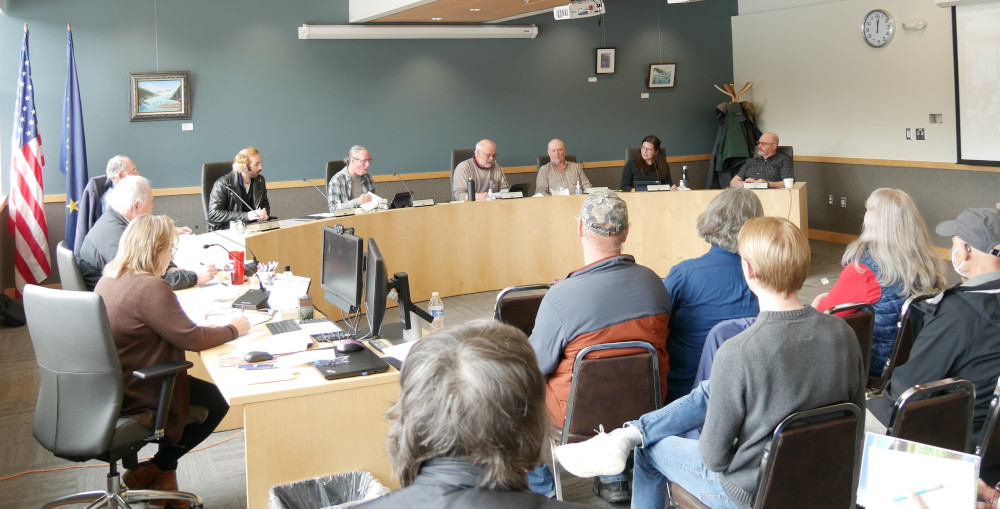 Two parcels of borough land had multiple interested buyers Monday and an outcry auction netted the borough more than $400,000.
The land up for sale was at 700 and 1015 Sandy Beach Road. It was the first live outcry auction for borough land since 2017.
Petersburg mayor Mark Jensen auctioned off the property during Monday's assembly meeting and both had back and forth bidding from multiple buyers.
"122,000 dollars going once, 122,000 dollars going twice, the property is sold to Tanya Somerville for 122,000 dollars," said Jensen at the end of bidding for one lot. "That property is at 700 Sandy Beach Road and clerk Thompson will contact after today's assembly meeting for signing the contract of sale."
That parcel at 700 Sandy Beach ended up going for more than $44,000 over the minimum bid of $77,500 . It goes to neighboring property owners David and Tanya Somerville for $122,000.
The parcel at 1015 Sandy Beach went for more that $116,000 over the minimum bid of $168,800. Ketchikan architect Linda Millard outbid Dr. Mark Tuccillo with a winning bid of $285,500. Some neighbors circulated a petition opposing the sale of that lot and sought to keep it as undeveloped land. However the assembly voted to sell that parcel and on Monday sounded interested in selling more.
Assembly member Jeff Meucci asked about identifying other borough land that could go up for auction.
"As we saw earlier there's the need in the community for more property within the borough to be sold to the public," Meucci said. "We already have platted right of way and roads and stuff throughout the borough."
These two parcels came up for sale when interested buyers approached the local government. Borough manager Steve Giesbrecht said that process worked well. He said the assembly could identify other lots it wanted to sell but cautioned staff has looked for buildable land in the past.
"After looking at all the property we came up with maybe half a dozen lots that are actually buildable," Giesbrecht said. "It's surprising. Folks think the borough has all this property and we do but very little of it is ready to go."
The auction will net $407,500 for the borough's property development fund. That's used to purchase or improve other land or fix up borough buildings. For instance, the borough is using that fund, along with an insurance payment, to cover the cost of repairs and replacement to boilers and electrical systems at the community pool this year.