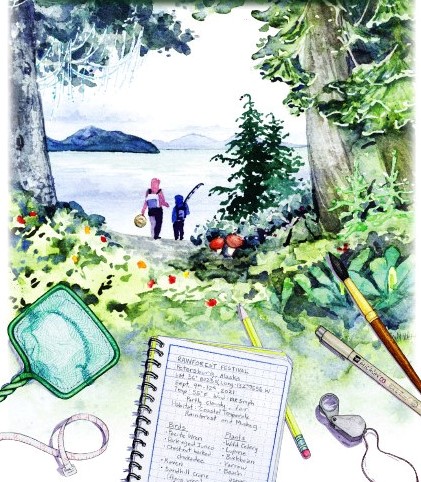 An artist with a deep appreciation for the natural world has been leading an after-school workshop for Petersburg's elementary students this week. And this weekend, she'll be teaching sessions for teens and adults.
Kim McNett journals, sketches and records the plants, animals and landscapes of Alaska. Now living in Homer, she's originally from Washington state and moved to Alaska in 2009. McNett has worked as an educator, kayak guide and fisheries observer. She received a Rasmuson individual artist award in 2018 to expand her use of color. McNett was also a featured speaker at last year's Rainforest Festival in Petersburg.
This week she's been an artist-in-residence at Stedman Elementary. Joe Viechnicki spoke with her about her afterschool class and her plans for teaching this weekend.
That's artist Kim McNett. Spaces are still available in both weekend classes. The session on drawing mini-landscapes called "Coastal Landscapitos" is Saturday from 9 a.m. to 1 p.m. at Sandy Beach Park.
Sunday's class on field sketching the inter-tidal is from 7-11 a.m. at Outlook Park. Cost of those workshops is $45. Sign up through the library's website or call Chris at 907-772-3349 ext 3.