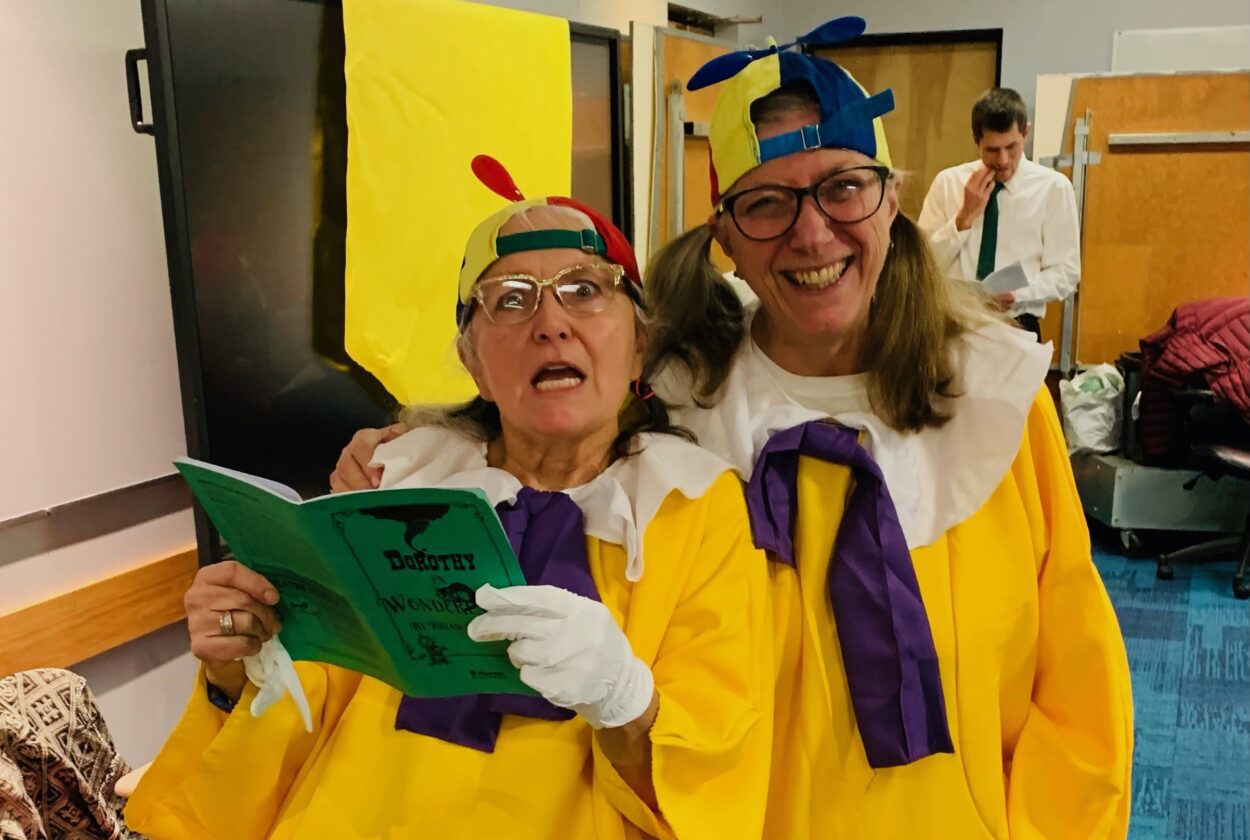 The Petersburg theater group The Mitkof Mummers are bringing audiences over the rainbow and down the rabbit hole with their production of 'Dorothy in Wonderland.'
With a title like 'Dorothy in Wonderland', people might wonder how the land of the Wizard of Oz and its cast of colorful characters came to cross paths with those of the magical world of Lewis Carrol's Alice in Wonderland. Who better to answer the question than the show's director Irene Littleton?
"Dorothy, Tinman, Lion and Scarecrow and Toto are at the end of Oz, and they are going to travel back home to Kansas. Dorothy's going back to Kansas with Toto and a tornado sweeps in and blows them all into Wonderland," Littleton said. "So now we have all the Oz characters with the Wonderland characters, intermixing, and Alice and Dorothy are trying to find their way home."
The story picks up right where 'The Wizard of Oz' ends. The Scarecrow has found his brain, The Tin Man his heart, and The Lion his courage. But, Dorothy and Toto are still trying to get home before they find themselves swept off to Wonderland by another tornado.
One of the fun parts of the play is watching characters from the two stories interact with each other such as Alice and Glinda the Good Witch.
The characters of Alice and Dorothy have a lot in common. They both want to go home from the strange world of Wonderland. The Oz characters help to make Alice's journey through Wonderland easier than the original story; she has more help along the way.
The show is a chance to see these childhood characters interact, and it's also a return for the Mummers themselves.
"It's a long process to pick out the right play, and the right play will speak to you," Littleton said. "We haven't had a show in two and a half years. So I wanted it to be a big production. And this one with all of the fun characters, I knew the costuming would just be fantastic. And just every character you can imagine that kids will relate to. And so it just seemed to speak to me and I saw it, that's what I chose."
The Mummers' shows have been on hold the last few years because of COVID restrictions. Now that things have opened up, it's all part of their continuing theatrical journey.
The Mummers performance of 'Dorothy in Wonderland' runs Nov 17-19th. Doors to the school auditorium open at 6:30 and the show is at 7. Tickets cost $10 at the door.