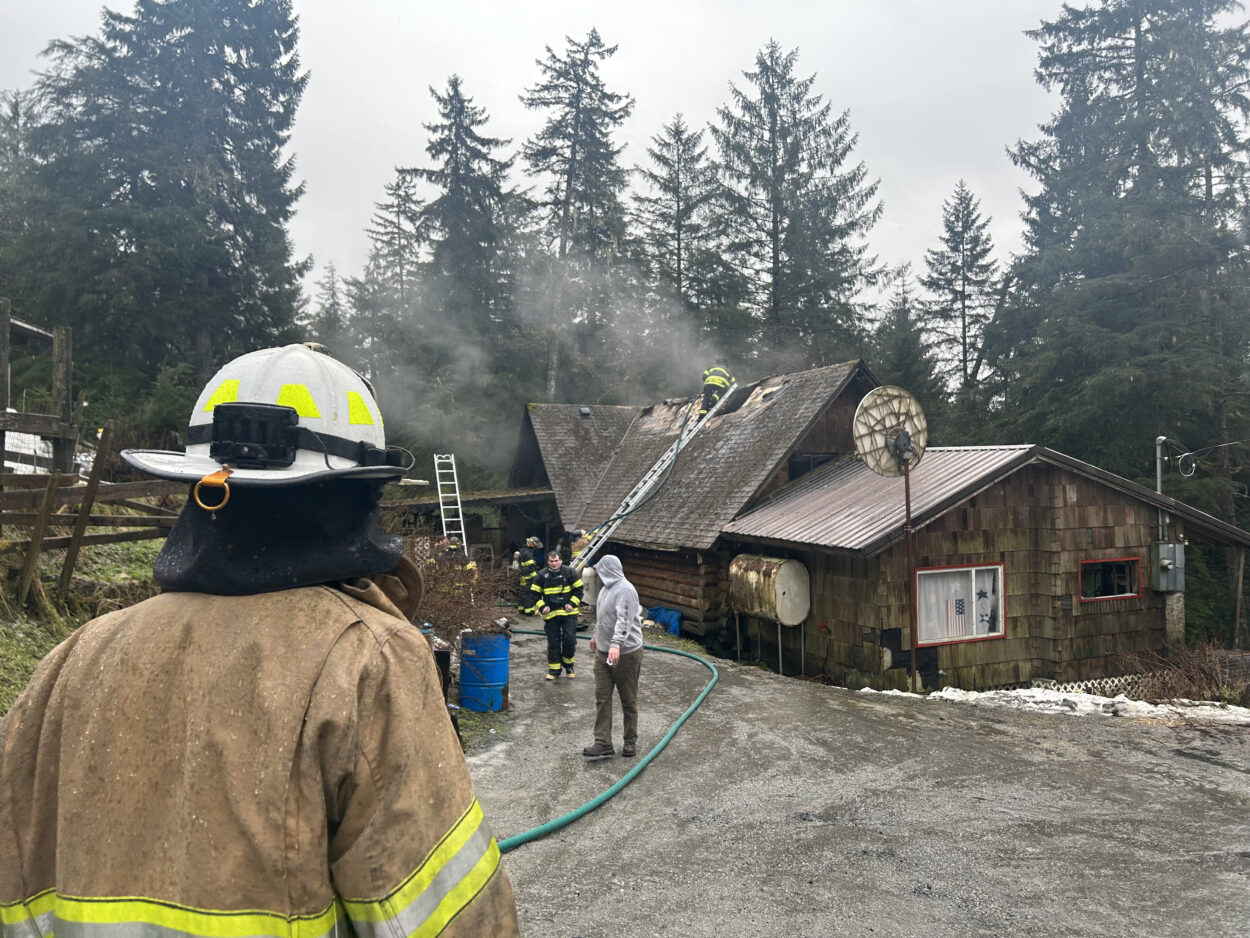 Petersburg's Volunteer Fire Department and police force responded to a house fire Wednesday at a home about five miles south of downtown. No people were hurt in the fire, but one guinea pig died. And there was severe property damage to the home.
The fire was at a log-cabin-style home at 471 Mitkof Highway. The fire department received the alert around 11 in the morning Wednesday and rushed to the scene. Dave Berg is a spokesperson for Petersburg's Volunteer Fire Department. When he arrived, the second floor was rapidly catching fire.
"I saw smoke — heavy smoke — coming out of the eaves and windows," said Berg. "And within a couple of minutes, we saw smoke and fire coming out of the eaves, the windows on the second floor of the building, which is where the owner indicated that the fire started."
The burning home was about a quarter of a mile off the highway. It was on the top of a steep hill, which was slippery with ice. Berg says, that made it hard for the team to access the property.
"It's always a challenge just being this far off the road," said Berg. "We're probably three or four hundred yards literally off the road right now. So to get a water supply, we were able to get our truck up here, which has water on board, but we needed more water. So we ran large diameter hose from the nearest hydrant, which is about a quarter mile back down the highway. So we put out probably 1,500 feet of large-diameter hose to get to the property."
It took the crew about an hour and a half to fight the worst of the flames. About 20 people helped put out the fire. Fire Chief Jim Stolpe directed the response from the bottom of the hill.
"So we have two trucks up there, probably 10 guys working on it," said Stolpe. "And as far as I can see by the white smoke, which is a real good sign that most of the fire is out."
Officials don't know how the fire started. But the homeowners told Stolpe they had noticed a problem with the chimney system.
By about 1 PM, firefighters had extinguished the flames and were checking the home for lingering embers.