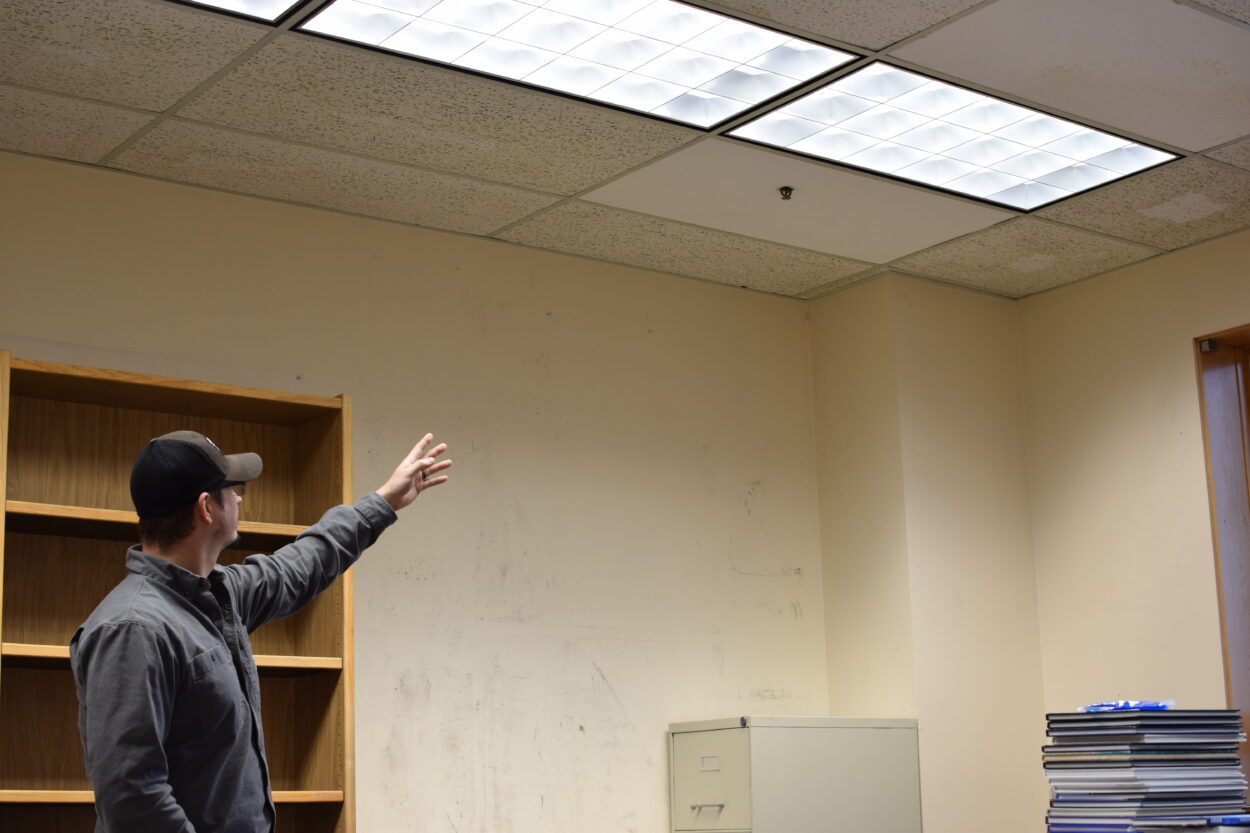 A fire sprinkler burst in the Petersburg Middle and High School over winter break, flooding two offices—including the office of the school's principal, Ambler Moss. KFSK's Shelby Herbert spoke with Superintendent Erica Kludt-Painter and Facility Director Aaron Buller about how the school will recover from the damage.
Shelby Herbert: So you folks were out of town on holiday when all of this went down. I'll start with you, Aaron — where were you when you got the call that the sprinkler had burst open?
Aaron Buller: Well, it was December 23rd. So [the] majority of flights out of Seattle were canceled — Alaska Airlines was not flying any flights out of Seattle. So I was stuck in the airport, waiting for a flight that kept getting delayed every hour. So, in between all that, I was coordinating on the phone with my crew here back in the school.
SH: That's rough. And how about you, Erica?
Erica Kludt-Painter: Well, I was in California with my family for Christmas. I was actually sitting at a table at lunch. The event did take place on December 23, which is actually a holiday for our custodians — for, actually, all of our year round staff. So it was a fairly fortuitous that the situation was actually discovered by our elementary PE-slash-high school basketball coach. There was a fire alarm that went off prior to the event, which the fire department did come through and checked out the areas that they needed to check out. But the actual incident with the water and the sprinkler was actually discovered by accident because it was a holiday.
And so, thank goodness it was discovered — the basketball coach came in looking for something, actually, I think a hair tie for a student and opened the door and saw the water. So that's actually — thank goodness — how it was found. And it was found quite quickly after the event happened. So we are so grateful that that happened because of that cold snap and the potential water damage. It could have been four days before somebody actually saw the water. Aaron can talk more about the specifics as far as the repairs, but the damage, honestly ended up being very minimal for what it could have been.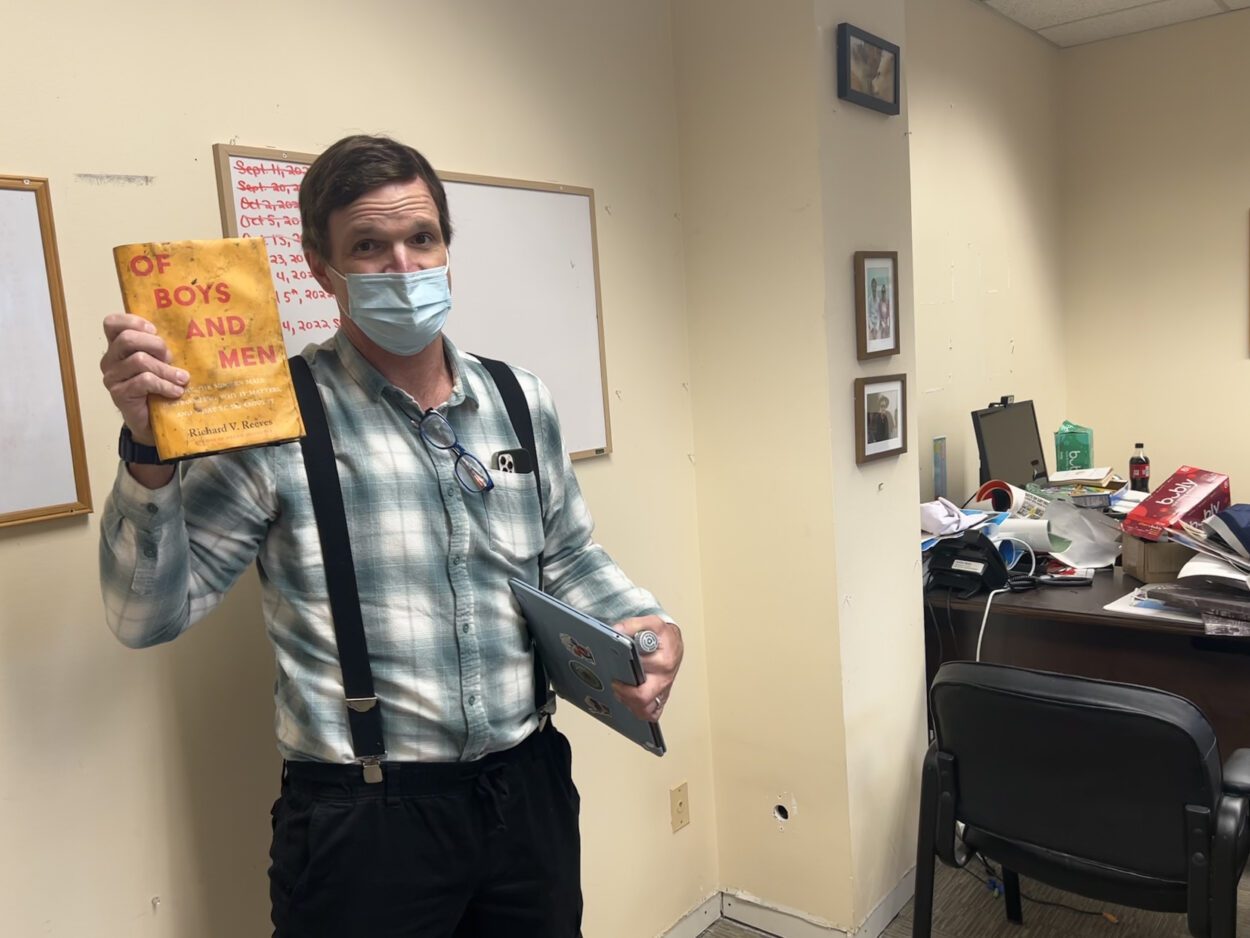 SH: Any idea what caused it?
AB: It's just frozen pipes. With this incident happening, we did find that one of our exterior walls is not insulated. So, that caused one of our pipes to freeze and the sprinkler had been the weakest point first. Oh my goodness when everything was starting to thaw out. The only damage is, y'know, we've had to cut the bottom three inches of sheetrock out of every wall that had water damage, and we had to run fans, dehumidifiers. We had a good crew here over that Christmas break to start sucking up water and carpet cleaning and you know getting stuff pulled out of these rooms so they could start cutting sheetrock out, start drying the inside of these walls.
SH: Right, right. So just, like, physics. Definitely. So, again, you guys got very lucky that this happened on break. But has this — or, will this — affect operations at the school at all, do you anticipate?
EKP: Nope. I would say again, the crew that was working on this throughout the break was able to get it all cleaned up, dried out, opened up. And so really, it's just more cosmetic at this point.
SH: Absolutely. Has this situation been assessed by your insurance provider yet?
EKP: So, we did report the incident to our local insurance and then our carrier, API. It's not going to end up reaching a $10,000 deductible threshold — and thank goodness. But they are aware of it. But we have a local contractor named Kevin Hagen and he was able to jump right in. They immediately got the walls opened up, they had the dehumidifiers — he had the little probe that he puts, in the wall, a moisture meter. And you check that constantly to see how much moisture is there.
SH: If there are any incidentals that the insurance provider doesn't cover — are you prepared to be able to finish the repairs?
EKP: Yes, we are. Aaron could address this more specifically as well — he does have a maintenance budget, in addition to a custodial budget. We do plan for that and we do budget for those, and this did come in at a fairly reasonable price. We're very grateful for that, because it's not going to be 10s of 1000s of dollars, which we're really really grateful for. So yes, we do budget for things like this.
AB: With the sheet rock that we've had to cut out, it was minimal. We've had sheetrock leftover from previous projects repairs in the district office, we're able to utilize some of that in our repairs in the admin office areas. So the cove base got a few rolls on order, because we didn't have enough of it. But other than that, it was pretty low cost for repairs.
SH: Aaron, how long do you expect the situation should take to repair?
AB: It should take at least another week or so until the cove base gets here. But once it gets in, it'll take us a matter of a day to get the rest of the cove base in and hopefully be done here in a week.