A Petersburg nonprofit will be cutting up art to pieces the first weekend of February for the sake of putting the community back together. WAVE, which stands for "Working Against Violence for Everyone," is hosting a biannual fundraising event in which paintings will be chopped up and sold off. Annette Bennett, executive director of WAVE, spoke with KFSK's Shelby Herbert about the event and said they're excited to have it back after a few-years hiatus.
Annette Bennett: So we do it every other year, in the odd years. And because of the pandemic, of course, we didn't have one. So we're so excited. I think the artists are also really excited to be doing things and creating things. And the gist of it is that we have some amazing artists in Petersburg, and they create a very large piece that we then cut up, which is terrifying, but they offer people to just buy one little piece. So you could buy like a one inch square of someone's art piece if you'd like. And you get to kind of choose it. It's all kind of random. So we pick numbers and you come in, you get assigned a number. And then when your number is drawn, you get to go up and make your selection. There's also a silent auction that's going to be happening along with the desert auction, which is the first time we've ever done that. And then they have some fun hors d'oeuvres and foods and things and then a cash bar or beer and wine, and then some mocktails will also be available.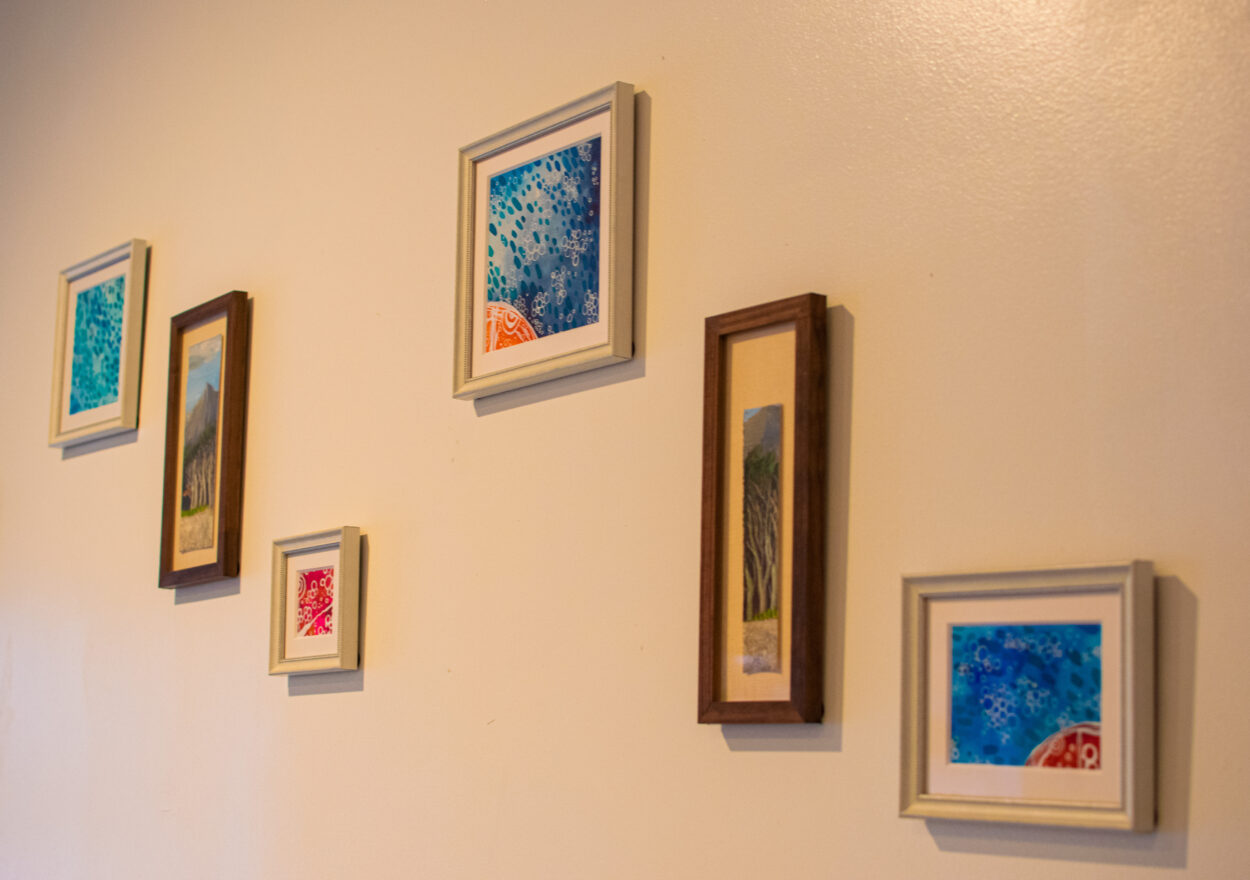 Shelby Herbert: That's awesome. This is the first time I've ever heard of anything like what you're describing — I've never heard of cutting up art like that. How did you guys get this idea?
AB: It was actually a former board president that had participated in an event in another place, and then came here and brought it to us. And it's been really fun. It was really interesting to figure out the dynamics of that. Like, "What do you mean, we're cutting this piece up?" And there were some artists that just really cannot be present, which is understandable. That, you know, they put so much work and time into this. And then to see it be cut up into this weird, unique space or shape that someone wanted is just very different. But it's also really cool to go visit some of your friends and see this little piece that someone selected that was like, "Oh, I remember that Art by the Inch piece that you cut out and it's on your wall now." So it's really fun.
SH: So the art that the organization is working with, is it multimedia? Just paintings, just drawings? Like, what can I expect to see?
AB: The art that's gonna be cut up might be watercolor, it might be acrylic, it might be chalk, or something.
SH: Does wave have any abstract goal for fundraising for this event? Or is it just kind of, you know, 'We'll see what happens?'
AB: We don't have a fundraising goal. But we definitely could use some funds. Right now we just found out that, you know, we are for sure having to move again, which is super sad for WAVE. So we're looking for another space to rent or maybe buy in the future. If we could raise that much money, it'd be amazing to find a location for a wave to exist permanently. Because since I've been the director, we have moved three times. And that's three times too many.
SH: Could you speak to the priorities of the organization in the coming year, 2023?
AB: Yeah, our big priority is finding a place for us to go. But after we find that we have some goals. After doing all the surveys that we have bugged our community for we took that information — now, we are prioritizing what we can accomplish with the number of staff that we have. We realized that the community is feeling really disconnected right now. So our goal is to find activities that can really bring the community back together. And having conversations in just connecting with people. Isolation is really hard as we all learn through the pandemic. So we want to break down some of those barriers. So that's going to be our big focus — just connecting folks. Another thing that we also are continuing to do is our advocacy services. So if anyone is experiencing domestic violence, sexual assault, or stalking, that's something that WAVE has advocates who have been trained to provide support. And, you know, we're here and available to connect with people.
SH: So using that as an example, how would fundraising expand an initiative like that? Like, would you bring on more people? Or does it help pay for training materials, things like that?
AB: Our goal is to have a staff of six people. I think that is really what would meet the needs of the community. Right now we have four. So we're just kind of prioritizing with what we have. Ideally, though, I think it'd be amazing to have a staff of six people who can provide advocacy services. And then, also, on our prevention department so that we don't need to provide as many Advocacy Services hopefully in the future.
SH: Thank you so much. Is there anything I didn't ask that you'd like the community to know about your program about this upcoming event? Or even just life advice?
AB: [laughs] I don't know about life advice, but I really hope folks are able to come to Art by the Inch. Just come have a fun time. It's going to be great to see people and just connect good times.
Art by the Inch is set to take place on February 4th from 6:00 to 9:00 PM at the Sons of Norway Hall. There is a $15 fee for entry and paintings are sold at $2 per square inch.