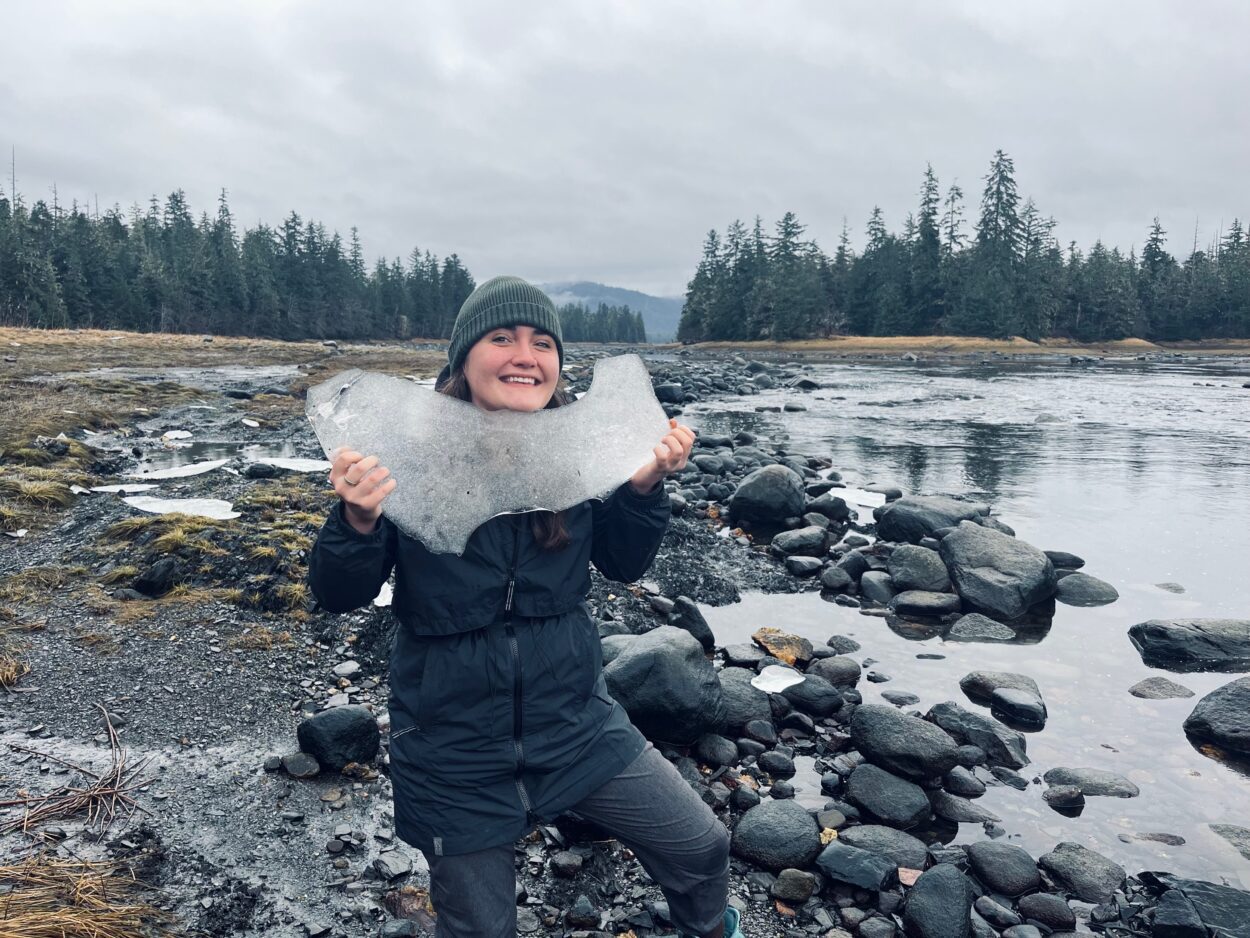 Shelby Herbert recently joined the KFSK news team in Petersburg as a reporter. She moved around as a kid as part of a military family and went to high school in Whispering Pines, North Carolina.
In January, she moved up to Alaska after earning her Master's degree in Journalism at the University of Nevada, Reno.
Herbert spoke with Rachel Cassandra and they talked about her journey to KFSK and what it's like reporting in Petersburg.
Shelby Herbert: Hi, Rachel. I'm Shelby Herbert. I'm the new reporter here at KFSK.
Rachel Cassandra: As a totally unbiased opinion, the newsroom is very happy to have you. I heard.
SH: Thank you. I'm very happy to be here. It's a beautiful town. And there are so many things to report on here. I am drinking from the fire hose. This whole month.
RC: When I told people I was coming to a small town to report that we're like, there's gonna be nothing to report on. And it's really the opposite. People are so invested in knowing what's going on in the community here.
SH: 100%
RC: Why don't you tell us a little about your reporting background?
SH: Sure, Rachel. So, I have a print background. I've reported for a couple similar newsrooms, I guess in size, but not in format. I went to undergrad in a tiny mountain town in Colorado, about 5000 people, and I was writing stories out there. And then during the pandemic, I actually got evacuated from my Peace Corps service in Nepal. I ended up back in my hometown in North Carolina, which is very, very tiny. I jumped back into journalism in the in the middle of the pandemic decided to go to grad school. And that's where I got thrown into the world of radio had a lot of fun reporting with our NPR affiliate in Northern Nevada.
RC: I have my own reasons. I also shifted from print to radio, but I'm curious what called you about radio.
SH: Definitely. I think it's such a nimble medium. I love that I can just take off when something's happening with two pieces of equipment. It's speedy, it's fun. I'm kind of a tech nerd. I love I love editing. I love looking at waveforms, folks.
RC: I really like also how when you're listening to someone's story in your ears in their own voice, it really transports you in a different way than reading something on the page. So, you just made a huge move in your life moving from Reno, right? And yeah, how has the move been?
SH: My skin has never felt better, Rachel. I came out here from the fastest-warming city in the United States. It gets more sunshine than Honolulu and we were in the worst drought in a millennia. I feel very welcomed here. The people are so kind and I love that I can wake up every morning and just see the water and the the pace out here is great.
RC: So we're both general assignment reporter, so we cover everything that community needs us to cover. But when you get to pick your stories, what kinds of things do you like to report on?
SH: Science! Rachel, I am all about science, especially anything involving the outdoors, the environment, climate, everything I've worked on so far has been a lot of fun.
RC: You've taken on some fishing stories.
SH: I have! The labor industry is important to me.
RC: And I heard in your personal life. You also really love outdoor stuff.
SH: I'm a fan. I'm a I'm a fan of the outdoors. I used to be on a search and rescue team and Colorado and I heard we have a good SAR team out here.
RC: Yeah, they're probably going to try to draft you after hearing the story.
SH: No way. Oh my gosh, that would be crazy. Just running out with the first aid kit and Zoom mic. That'd be a wild time. Yeah, I've done some ice climbing, love climbing mountains, cross country skiing.
RC: What is ice climbing like?
SH: That's a great question.
RC: To me, that sounds terrifying.
SH: My first time, I was in Lake City, Colorado, and I was having a whole lot of fun but not really checking in with myself and especially with how my circulation was going. There's this thing in the ice climbing world called the 'screaming barfies.' I hope that's something I can say on the radio. The 'screaming barfies' happen when you're holding your arms above your head because you've got those ice picks, and that takes away blood from your extremities. It's also very cold. So, your blood is kind of in your core anyways. So, you're using your arms there above your head. It's very, very cold. And then when you complete your route and you get to the bottom, all that blood rushes back into your arms and your legs. And it is one of the most unpleasant feelings I've ever experienced in my life. It leaves so fast, but it's kind of like having a brain freeze in both of your arms at the same time and it makes you want to run around and scream and throw up. So be careful out there. If you're ever ice climbing, take lots of breaks where warm clothing.
RC: Well, thank you for that.
SH: You're very welcome.