Petersburg's Borough Assembly took its first steps towards taking ownership of a state-owned public boat launch last week. Boaters who use the Papke's Landing float dock say the state has let it fall apart for decades. The Borough wants to foot the bill for repairs by taking ownership of the dock — but it will cost Petersburg more than nine million dollars to repair it.
Many Petersburg locals say the float dock has seen better days. The wood is ancient and rotted out in some sections. The parking lot is socked-in with snow. Even the sign, reading: "Papke's Landing," is barely decipherable through a layer of moss.
The dock was built by the U.S. Forest Service to store and transport lumber before World War II. Later, it came under the care of two different state agencies. The Alaska Department of Transportation owns the dock itself, while the Department of Natural Resources owns the surrounding lands.
Today, the facilities take in a lot of traffic from fishing lodges, like Rocky Point Resort. Resort staff regularly use the dock to launch tour boats and receive guests coming in from other islands, though its poor condition has made it difficult for them to do their jobs. Mike Payne is a co-owner of Rocky Point — he says Papke's has been like this for a long time. 
"Basically, it needs to be torn out," said Payne. "I started coming down here when I was five, and it's still the same dock. So 45 years later, it's just breaking apart. In the wintertime, when it snows, it sinks and it gets all jill-poked around the ramp."
"Jill-poked" is lumberjack lingo for an object stuck in the water where it could cause a jam.
"It's just beat up," said Payne. "All it takes is a couple of big boat wakes, and who knows what'll happen to it. You can see, right now, it's the dead of winter. And there's only a spot for another three or four boats to park. A lot of people from town tow their boats out to do everything from winter trolling to deer hunting, duck hunting or whatever. It's one of the ways to get everywhere. So it's not just the people out here — this problem is kind of everybody's."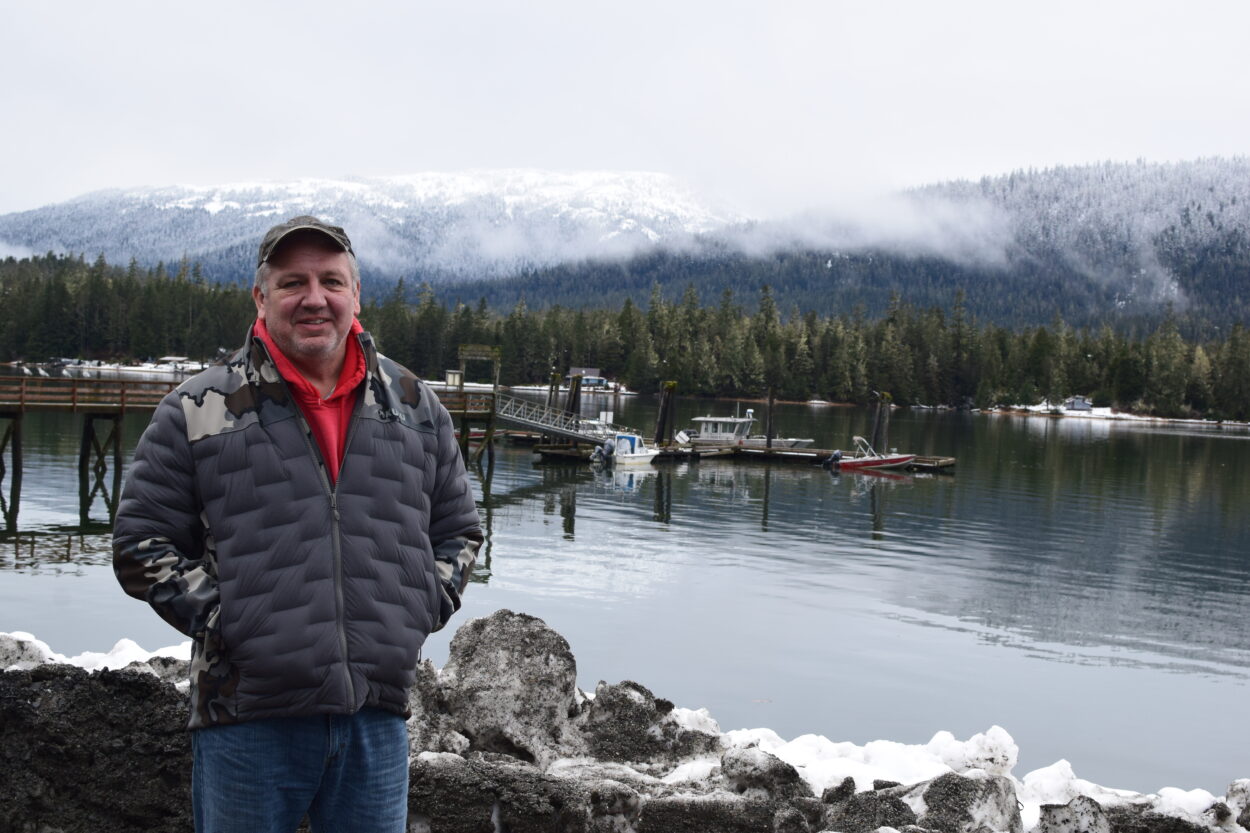 Borough Manager Steve Giesbrecht echoes the idea that this is a community-wide problem.  He says the poor condition of the dock also impacts subsistence fishermen who use the dock as an alternative to the crowded ones in town. Giesbrecht says he used the dock himself when the planes weren't running.
"I've had an overflight where the flight couldn't land in Petersburg," said Giesbrecht. "Instead, it landed in Wrangell. And then we got a shuttle boat that took us in here and dropped us off at Papke's."
Assembly members Dave Kensinger and Bob Lynn spearheaded the effort to take Papke's Landing. Lynn says there's a community effort to keep it "afloat." However, he said this is not sustainable.
"We've replaced the skirting on it, we've put foam back under it," said Lynn. "A number of us have had to go move the ramp over so it'll guide down that side ramp. We've been continually at it. There's been quite a community of folks that have helped do that. But we're simply now to the point that a band aid approach isn't going to work." 
But the 9.2 million dollar price tag remains. Giesbrecht says Petersburg taxpayers have reasonable questions about where this money is going. 
"How are you going to pay to maintain it?" asked Giesbrecht. "How are you going to pay to make repairs? Who's going to manage it — from the standpoint of people dumping old cars there or something? And all of that is going to have to get answered. So there's no question that those are very valid concerns. It's not pocket change."
Some of those costs might be alleviated by a combination of state and federal grants, such as the 2022 Infrastructure Bill. Assembly Member Thomas Fine-Walsh says, so far, the Department of Transportation is putting up $50,000 to help with the repairs. 
"It seems negligible," said Fine-Walsh. "But, it's something. But then, also, it has been really complicated trying to try to get control of the land from the state."
As for now, the Borough is still awaiting approval for the land transfer from the Alaska Department of Natural Resources. They're also applying for more grants to cobble together the funds to repair the facility.