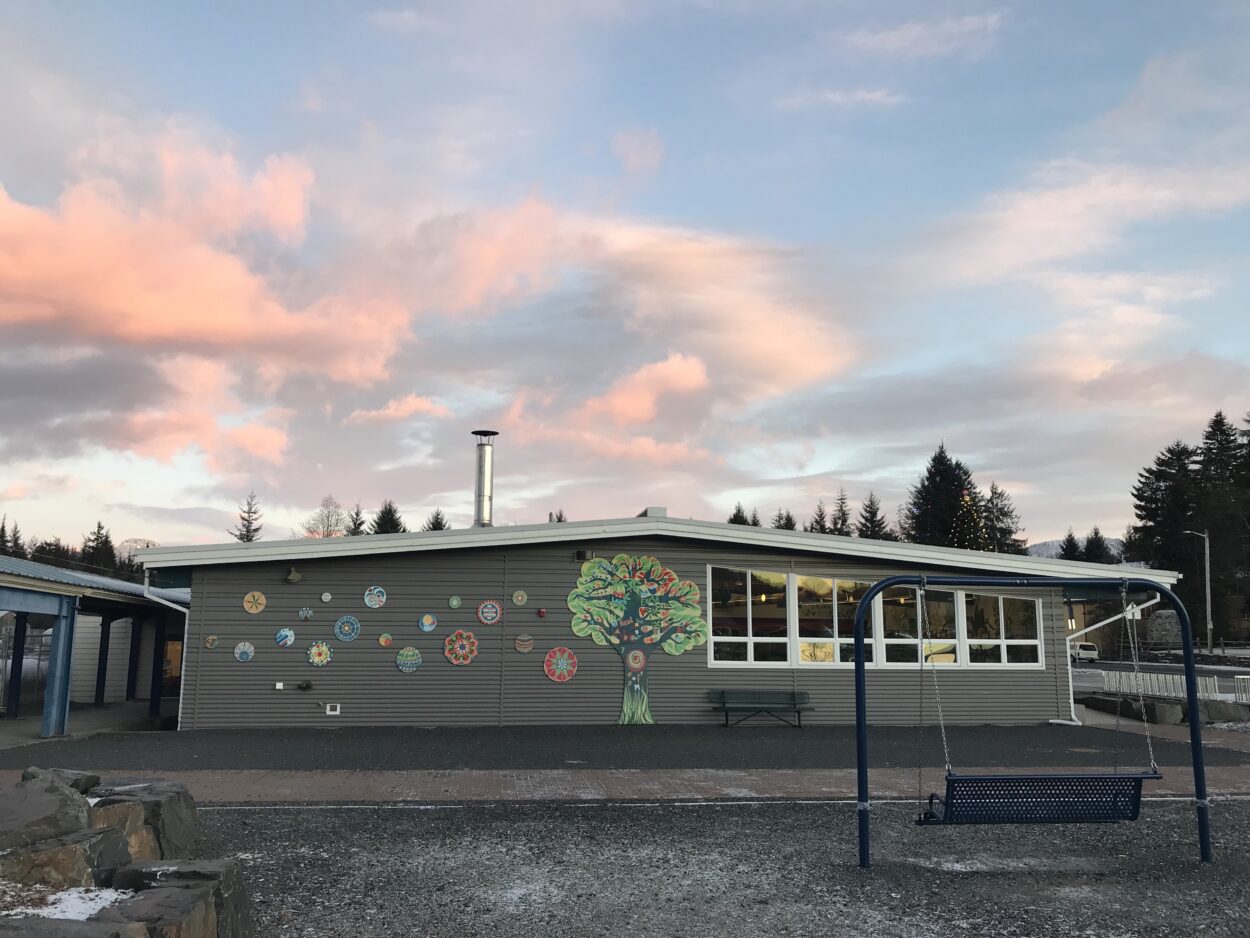 Stedman Elementary School (photo by KFSK).
The Petersburg School Board will meet this evening at 6pm at the high school library to announce a few administrative resignations at the end of the school year. Middle-and-High-School Principal Ambler Moss will end his term in June. He's been with the school district for just this school year. According to District Superintendent Erica Kludt-Painter, principals always have one-year contracts.
"The district and Mr. Moss mutually agreed that he would not be renewing his contract for next year," says Kloot-Painter.
Long-time Finance Director Karen Morrison has also announced that she'll be leaving in June. Morrison creates and manages budgets for the school district—a task that's become increasingly complex as the school faces relentless budget pressure and flat funding. She will be taking a position in Juneau working for the Alaska Department of Education and Early Development as their Director of School Finance. 
The board will discuss upcoming curriculum changes. There will be changes to health, physical education, swim, english/language arts, and Spanish-language curricula. This follows discussions at a work session last week. Most of the curricula changes are minor. But the school is starting a new English/Language Arts curriculum. They received a grant to purchase the curriculum and train teachers. The new curriculum will be compliant with READS Act legislation, but was not a required change. 
The board will also discuss upcoming sex education and substance education curricula. Before middle school students begin their health classes, the school will send letters home with information about what topics will be covered in the programs.
This month, there will be ongoing standardized testing for all students.
Kludt-Painter has flagged school attendance as an ongoing issue. The administrators will be taking a close look at current attendance and notification policies. They'll likely make changes in the student handbook on attendance policy and procedures for the fall. They don't need board approval to make these changes. 
Aaron Buller is the director of facilities and maintenance. He'll give updates on the schools' roof assessments. He's also presenting an estimate for the high-school and middle-school roof repair. The entire repair and rebuild will likely cost around 3.4 million dollars. The architects have submitted detailed estimates for about a third of the project [WEB: 35%]. The district is hoping to get costs covered through a State Capital Improvement Project grant.
Community members are encouraged to attend the school board meeting and KFSK will broadcast the meeting live. KFSK will also post a recording on our website.