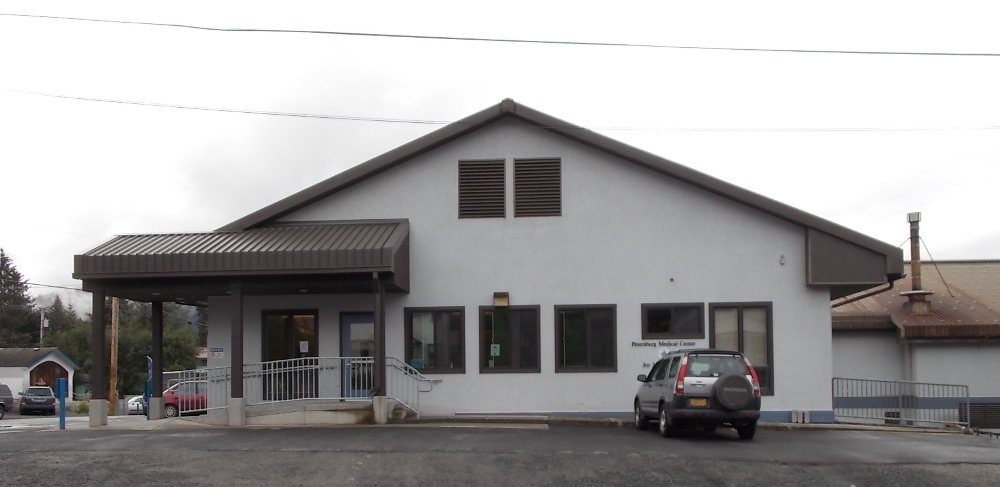 Petersburg is moving forward with plans for a new hospital. The community's Borough Assembly authorized plans for the new facility on April 17th. Now, the Petersburg Medical Center's board can start drawing up plans for the facility. 
However, some community members have concerns about what assembly members are calling "the biggest project in the history of Petersburg."  
The project would replace the existing Petersburg Medical Center with a new facility, which would include updated infrastructure and seven additional beds. The building is roughly 60 years old. And Petersburg Medical Center CEO Phil Hofstetter said the cracks are starting to show.
"There's a clock ticking on the major components of our facility, and they are failing," said Hofstetter. "Almost ten years ago, PMC hired architect JYL  out of Juneau to complete a comprehensive facility condition assessment. The results show that almost all major infrastructure and architectural standards were at the end-of-life or exceeded their life."
Petersburg Borough Assembly member Scott Newman said it's time for a new facility.
"Look around this room," Newman told his fellow Assembly Members. "Look at how old we are. We're all aging. And the facility that we have is — well, I'm 58 years old, and I was born in it. My wife works there. I've heard stories for 30 years about things breaking down."
The borough owns Petersburg Medical Center, but it's operated by a semi-autonomous board. Petersburg's Hospital Board is planning to source the $85 million necessary to build and outfit the new hospital from state and federal grants. But some community members still have reservations — Don Koenigs is one of them. He told the assembly he's worried about what happens *after* construction is complete. He said maintenance and upkeep costs could burden the community. 
"You need to figure out how you're going to own and operate that facility," said Koenigs. "I believe that should be presented to the public before you start moving forward with your site selection and getting a contractor. Asking dumb questions is much easier than correcting dumb mistakes."
Koenigs asked the assembly to seek approval from the public before they sign off on the project. 
"My suggestion," said Koenigs, "Is to make sure that you have the confidence and the vote of the public on what you're endeavoring to try to do before you authorize construction and selection of a site."
Assembly member Donna Marsh expressed similar concerns over operational and maintenance costs. And she said she thought the $85 million estimate for construction was optimistic. 
"It sounds like a great facility, but I don't think it's going to fit in Petersburg because we cannot afford it," said Marsh. "The concept is based on a lot of: 'If we get this funding, we can do this.' I think that's shaky ground. I've spoken to quite a few people who wish that it had gone to a vote of the public."
She was the seven-member assembly's lone vote against a resolution outlining the borough's plans for the new hospital. Mayor Mark Jensen said he was initially worried about leaving Petersburg on the hook if state and federal funding falls through. But, he said, he's talked this through with the borough's attorney, the architect for the project, the contract manager, and the CEO of Petersburg's Medical Center. Jensen said he's confident that the borough won't be left holding the bag.
"If the money is not there, they can't proceed," said Jensen. "So we have to have a guarantee that they have the funding before they take each step in the process. I still have reservations about this. But with this resolution, the way it's worded, I think the residents of this town are protected."
Newman said he understood others' hesitation. But he said he knew how badly Petersburg needs a new hospital.
"Like other people have said, it's the biggest project in the history of Petersburg," said Newman. "It's a mountain to climb. And how do you climb that mountain? You take the first step. None of us have built anything this big."
In other business, the Assembly unanimously accepted a $17,000 grant from the Alaska Department of Health and Social Services for new lab equipment for the existing Petersburg Medical Center. The grant will fund a microscope with a camera attachment.
Editor's note: A previous version of this story incorrectly implied that Petersburg Medical Center stopped providing birthing services because of the declining condition of the hospital. The Hospital Board voted to stop providing this service because of Petersburg's declining birth rate, as well as difficulty maintaining enough staff members trained in obstetrics. However, the hospital's CEO, Phil Hofstetter, maintains that further deterioration of the facility could lead to the suspension of additional services.