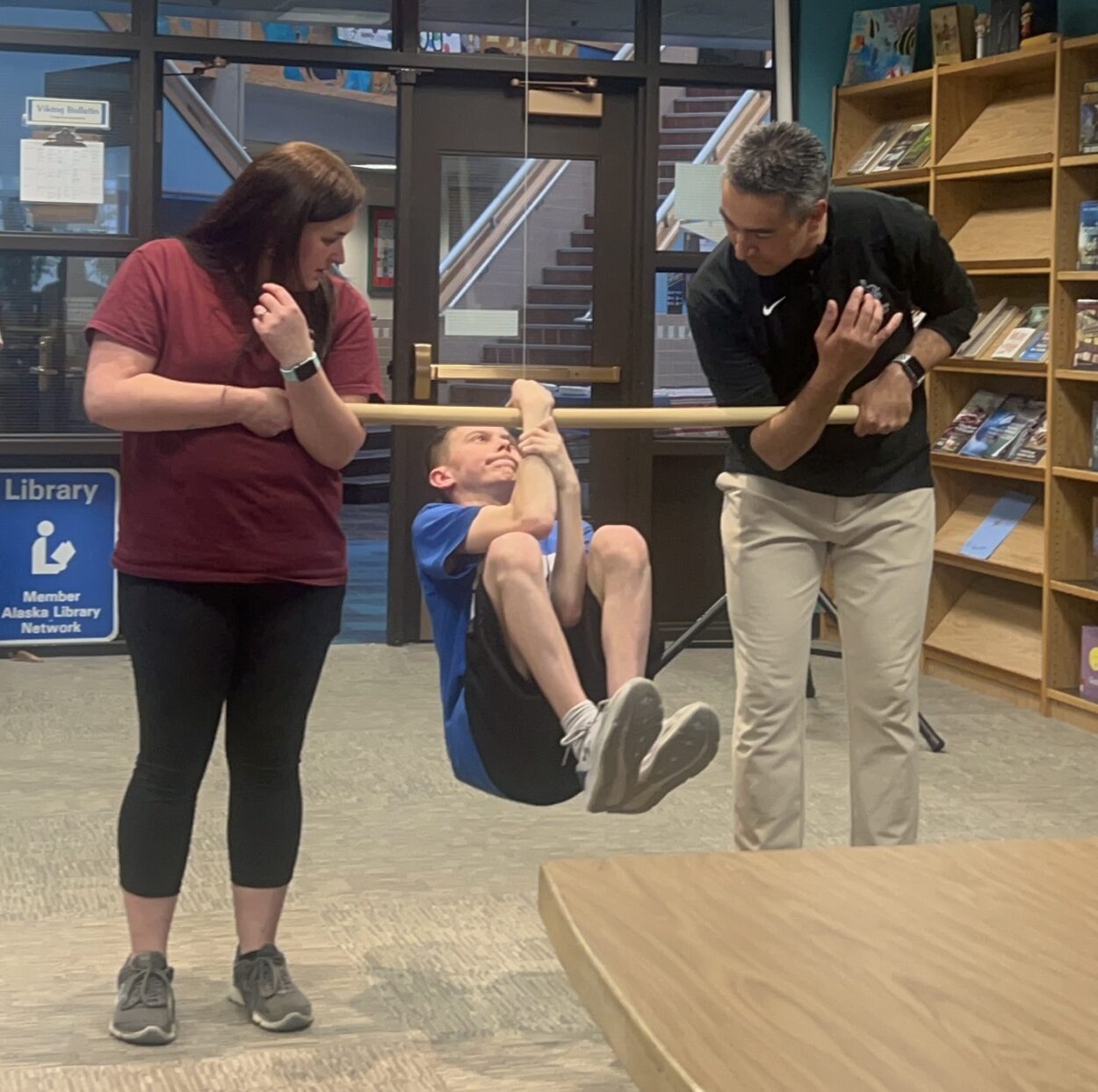 Thirteen Petersburg middle schoolers traveled to Juneau earlier this month to compete in the Native Youth Olympics against teams from all over the state. Petersburg's team has only existed for four years — but this year, they finished the competition as the first-place middle school team.
Petersburg's middle school team had the highest number of top five-finishers out of all the events. Seventh grader Calder Ratliff is one of them. He got first place for the wrist carry — supporting his entire body weight with one wrist curled over a wooden stick. Calder held on for 27 seconds. 
"You put your wrist on a piece of wood and with your other hand, you'd hold your wrist," said Ratliff. "Then, you'd basically hold yourself up in the air. It's really painful."
Juneau's annual tournament includes ten different games that test skills of strength, agility, endurance, and focus. The games are based on hunting and survival skills of the Indigenous people of Alaska and across the Arctic going back thousands of years. But the tournament isn't just about athleticism — the students are taught to connect with the history and cultural significance of each game.
Eighth grader Lincoln Odegaard competes in the seal hop event — where athletes hop on the floor in a push-up position. They use their hands and toes to propel themselves forward, like a seal. The athlete who travels the greatest distance is the winner. The seal hop is Odegaard's favorite event because of its traditional importance to hunters.
"I like the culture behind it," said Odegaard. "For the culture, they used to go on the ice to get a seal. They used to go out in the push up position, and hop towards the seal. It's kinda like moving like a seal would on the ice. They're kind of hopping up and down to get where they want — and then they just stand up and spear the seal."
In addition to having taken home the most medals, Petersburg's athletes were proud to have broken many of their own personal records. Eighth grader Nicole Durgan-Ware had her best performance yet in the one foot high kick. In this event, athletes jump up with both feet, kick a ball with one foot — and, here's the kicker — return to the ground without losing their balance. 
"I think my highlight was the one foot high kick, because it wasn't the one that I really like focused on," said Durgan-Ware. "But that was the one that I'd beat my PR by a lot — just by a simple tip that the officials had given me while I was doing it."
Petersburg's Native Youth Olympians say even with the competition, it was a supportive atmosphere. Eighth grader Maria Toth said the camaraderie with the other teams helped her get through stage fright and improve her form.
"When we compete, everybody's gathered around in a circle or a semi-circle around the ball," said Toth. "So I just felt really comfortable and safe around everybody. Even though they were my opponents and I was trying to beat them, I just felt really comfortable. Usually, I tend to have performance or spotlight anxiety. I tend to shake a lot and get really nervous. But for the Alaskan high kick event, though these were all people I've never met before, I just felt really, really comfortable. And I definitely performed better because of the people who gave me the tips, who were my fellow competitors."
Jamie Cabral is Petersburg's Native Youth Olympics coach. He said the team's big win is special because this is only the team's fourth year competing. He said he's seen the team grow in numbers and skill from year to year. He wants to hold onto that momentum. 
"We just hope to keep it growing, because it's something new and for them to do as well as they did only being a four-year-old program is pretty cool," said Cabral. "It's one of my favorite things to coach, and they hit it all — the camaraderie with the kids is amazing, and they make lifelong friends. The kids love it and that's why we do it and we hope we get more. And we hope they all stick to it through high school and graduation." 
Cabral said he hopes Petersburg's team can hold onto the momentum they've built over the last year. He also thanks the volunteers and organizers who put together the tournament.
The annual Native Youth Olympics is organized by the Sealaska Heritage Institute and led by coach Kyle Worl, an award-winning Arctic Sports athlete based in Juneau.