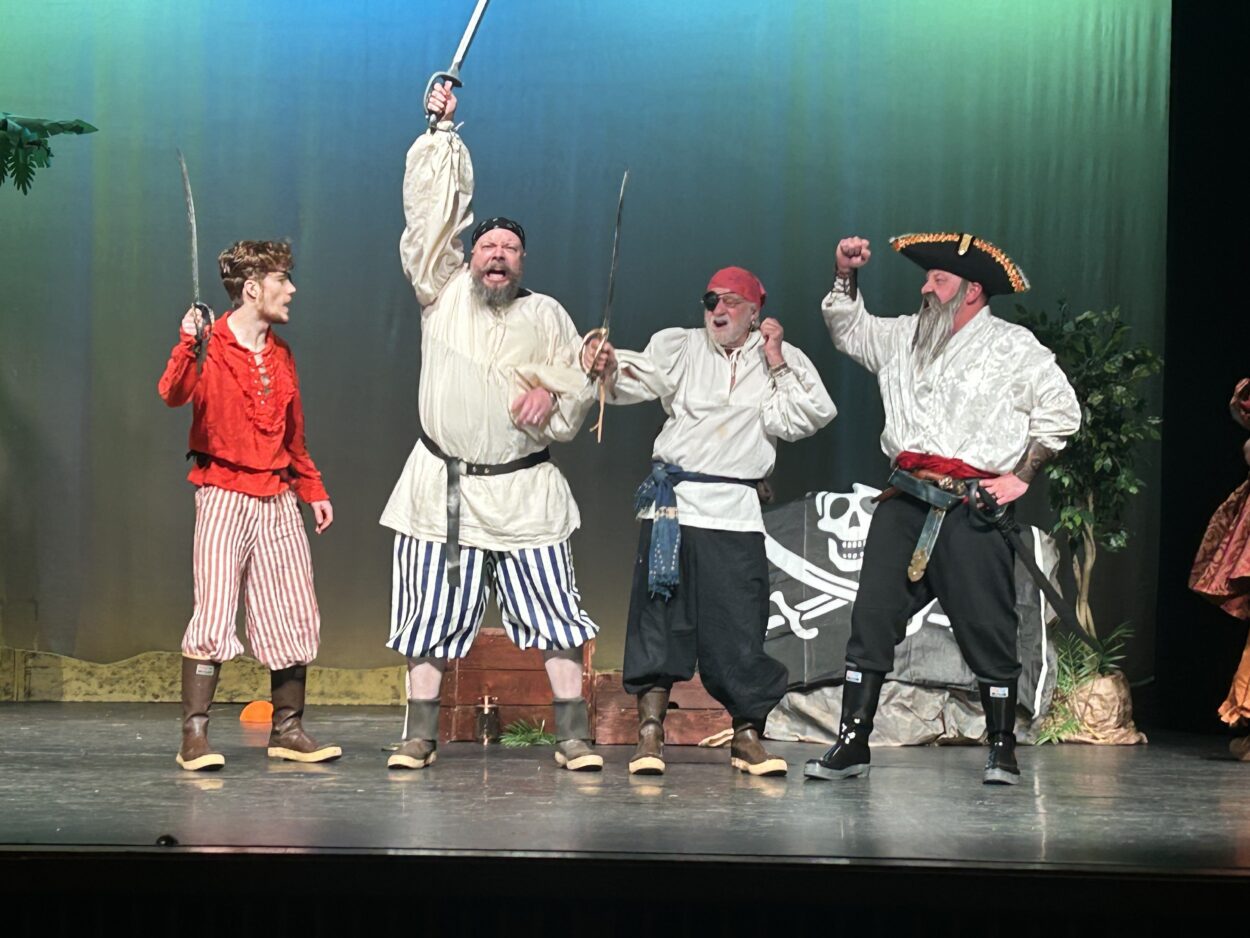 The Mitkof Mummers are set to debut their annual Mayfest play. It's one of many public art events held for the Little Norway Festival in Petersburg — but in the place of marauding vikings, this show features marauding pirates.
In a backstage exclusive, the Mummers told KFSK about their favorite jokes, best production moments, and pre-show butterflies. 
It's two days before the debut of Blackboot's Lost Loot, and cast member Ryan Mumby said the vibe is electric.
"It's been great, but the anxiety levels now are through the roof," said Mumby. "It's a good anxiety, though — it's not a bad anxiety. We're all excited."
Mumby plays the romantic lead: a gender-bending pirate named Swink. It's his second play with the Mummers, and he says the people are the reason he decided to put himself through that anxiety a second time.
"Everyone leaves their ego outside," said Mumby. "You come in here and you pick up a script and you just play that part. To me, that's really intriguing. But also, they're just a great group of people."
According to Tiffany Glass, the show's director, part of the rush comes from the wide variety of people who came aboard this spring. However, it was difficult to schedule around her casts' day jobs. Glass, herself, works in admin support for Petersburg's Ranger District.  
"I work 40 hours a week — well, actually, even more than that some weeks," said Glass. "To find the time to dedicate four nights a week for a few hours a night — it gets to be a little much. But what's amazing is how well it always comes together in the end."
But Glass says that the real-life roles her cast members serve in the community makes collaboration more fun. A lot of the pirates actually have nautical jobs. Like Garrett Kravitz, who plays Blackboot. He's serving in the U. S. Coast Guard on active duty.
Traditionally, the Mayfest play is about canneries or fishing. But this year, the Mummers went with a pirate theme. Glass said it's close enough. 
"First of all, pirates — I guess you could say they're similar to Vikings," said Glass. "They both pillage and plunder, and they both yell randomly — "Arr!" Or whatever it is that they feel they want to yell. And it's nautical!"
There are also plenty of Petersburg easter eggs viewers can catch if they're paying close attention. The pirates are decked out in XtraTuf boots and — as is tradition with the Mummers — make jokes at the expense of Wrangell, Petersburg's neighboring island and high school sports rival.
The premise of Blackboot's Lost Loot is fairly straightforward: two rival pirate crews set out in search for treasure, while a group of bumbling ornithologists search for a rare bird. Hijinks ensue — and an intrepid journalist, played by Tatum Hagerman, tags along to document them. 
"My character's name is Rosie Redshoe, and she's a reporter for the World Bird Magazine," said Hagerman. "She's basically recording all of the shenanigans along the way in her little notebook."
The play runs almost an hour long. But Glass says it's worth the audience's time.
"When I've been listening to this play for the last two months, I don't always laugh when it's a really funny part because I know it's coming," said Glass. "So we're really excited to have people in the audience to react and for us to play off of because, I mean, I'm not going to give it away — but there's going to be some things that people are going to be a little surprised by, that are going to make them laugh."
But Glass said there are still some moments that have brought her cast — and herself — down with the giggles in the middle of practice. There's one scene in particular, which involves a stuffed duck prop.
"We were trying to figure out how to play the scene out," said Glass. "Kind of randomly at this one practice we kind of — well, without giving it away —  just threw something out there as a like, 'Oh, this is funny. Do it this way.'  It was one of those things that wasn't even that hilarious, but so unexpected and random. One of our actors started laughing hysterically. And of course, once he starts, he couldn't stop, and then everybody else is laughing. It took us probably a good ten minutes to recover from that. We were all just dying."
Without revealing too much, cast members tried to sum up Blackboot's Lost Loot in three words.
"Silly, pirate, fun," said Glass.
"Let's go with: 'fun, pirate party,'" said Hagerman.
"Hilarious, rowdy, and fun," said Jessica Hawley, who plays Pearl — one of the cast's lady-pirates.
"It's funny, it's sort of original. And it's a little outlandish," said Mumby.
Glass encourages all who are game for a good laugh — and curious about what had the crew in stitches over the stuffed duck — to check out the show. Blackboot's Lost Loot runs until Saturday, May 20th at the Wright Auditorium. Doors open at 6:30 p.m. and the show starts at 7 p.m.