It looks like a pretty average year for commercial Dungeness crabbing in Southeast.
The Alaska Department of Fish and Game announced last month that crabbers would have full two-month summer and fall seasons for most of the region. The season length is based on the first week's catch. Crabbing started June 15 and will be open through mid-August.
Adam Messmer, the department's shellfish assistant manager for Southeast, says this summer's crabbing got off to a better start than last year. "Yeah the first week catch this year was pretty much right at 600,000 pounds. Last year's catch was at about 480, which is quite a bit more than last year," Messmer says. "We're projecting three point seven million caught for the entire season. Last year's projection was two point six. So we are up a bit from last year."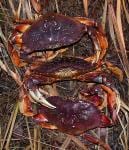 If that projection pans out, this year's catch will be just above the 20-year average of 3.6 million pounds. Fishing effort is pretty close to average as well – 127 permit holders were out in the first week. That's up from the 114 permits fished in the first week last year and just above the 20-year average. Messmer calls the distribution of the crab catch "strange" in the early season.
"There's some areas that are big producers that started off really slow. Some of the northern areas are still pretty slow," he says. "Districts 8 and 6 (near Petersburg and Wrangell) produced quite a bit of crab. But I've been hearing from fishermen the fishing is slowly picking up, you know crab are coming out of the mud still. The first week they weren't catching a lot of soft shell or females or juveniles. And now their catch is kinda picking up so that's encouraging," he notes.
The Dungeness crab price started out strong this season averaging $2.50 a pound, up more than 25 cents a pound from last year's starting price.