Only two of Petersburg's three schools met standards of the federal No Child Left Behind Act this past school year.
Petersburg High School was one of 271 public schools in Alaska not meeting Adequate Yearly Progress benchmarks. The state's Department of Education released results of the annual assessment Monday. The law requires schools and school districts to meet standards for students testing in math and language arts. Schools can have up to 40 different targets for students grouped by ethnic background, income and learning disabilities. The law also sets thresholds for graduation and attendance.
"Actually this is not unexpected in terms of we've been preparing the board and the community as the criteria for the NCLB or the No Child Left Behind law increased to literally 100 percent," said school superintendent Rob Thomason. "We knew at some point we were gonna fall into that bucket. That said, we still want to investigate which part did we fall down on and how can we make it better. There is a move afoot nationally and in Alaska at the Department of Ed level to base the criteria on more Alaskan based standards so we're excited about that but we do wanna know what happened."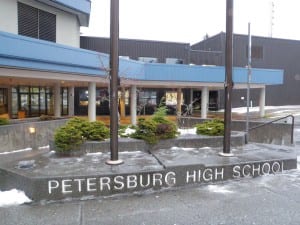 Petersburg High School did not meet the performance measure for economically disadvantaged students taking the math tests, with only 57 percent showing proficiency in that category. The school also fell below the 85-percent threshold for a four-year graduation rate, instead graduating over 77 percent of local high school students.
Thomason says the district will take steps to fix areas that need improvement. "And the first level of not meeting AYP is simply identify the problem and develop a plan to address it," he noted. "Since our high school does not receive Title 1 funds, we will not be going down any path of negative kind of stuff coming out of the department of education. Both of the schools which receive Title 1 funds both made AYP and did well so we're concerned but not surprised."
Federal Title 1 funding helps pay for education of low-income and minority students. Petersburg's Mitkof Middle School and Rae C. Stedman elementary school met the standards again last year.
It's not the first time for Petersburg to fall short of the federal law's performance standards. The school district as a whole did not meet the AYP standard for special education participation several years ago.
The AYP results will be a topic of discussion at next week's school board meeting and will eventually be published as part of the annual district report card.