The Alaska Division of Elections says it cannot provide early voting accommodations for a couple living in one of the most remote parts of Petersburg's proposed Borough. The state is conducting the borough's incorporation election in December, which is a difficult and dangerous time for the couple to make the boat trip to Petersburg. Matt Lichtenstein reports: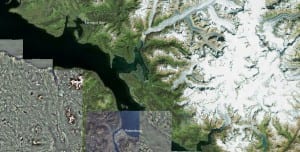 Lou Grauel and her husband Andy Live at the head of Farragut Bay which is on the mainland 35 miles Northeast of Petersburg. If voters approve this winter, Farragut would become part of a new Petersburg borough and thus be subject to taxation and other municipal powers.
Grauel says they won't be able to travel to Petersburg for the vote. Their home is on the east bank of the Farragut River, where they are the only year-round residents.
"We live in tidal flats so that we have to have a certain height of tide to get out and of course living next to a freshwater river we have a lot of ice in the winter. So, even if the deeper parts of the bay are ice –free we still can't get out because almost all the time we have sheet ice there and airplanes don't want to leave at that time," she says.
Even if they do make it out of the bay in winter, The Grauels also have to worry about the ice closing in before they get home.
The borough incorporation election is run by the state, which will send mail-in ballots to area residents in late November. There will also be in-person, absentee voting available in Petersburg starting December 3nd. The official deadline for returning the ballots is December 18th. The borough would incorporate a number of area residents who travel to Petersburg by boat to get their mail and vote. Many live along the Wrangell Narrows, a more protected waterway with much closer access to the Mitkof Island Road system and Petersburg.
The Grauels have to run the greatest distance across Frederick Sound, a large, open body of water. Grauel says their small boat was nearly swamped in bad weather last year, "We are not travelling, you know, in the Narrows. I mean, we're are in Frederick and this is really dangerous, nasty water and even most fishermen are reluctant to spend a lot of time on the water that time of year and this is what we would have to do to come in to vote."
Grauel believes it would be life-threatening or simply impossible for the couple to make the trip to town during the state's time frame.
"It just seems extraordinarily unfair because this election is going to directly affect us for the rest of our lives and we're not being given the opportunity to vote," says Grauel.
Grauel Points out that the state has already acknowledged their travel problems and accommodates them with an early ballot for electing state and federal candidates. They normally can cast a vote 60 days ahead of time. Even if the official ballot is not finalized yet, this early version allows voters to write-in the names of candidates and state their support or opposition on issues.
According to Alaska law, those special ballots are supposed to be available in state elections for people who live, "in a remote area of the state where distance, terrain, or other natural conditions deny the voter reasonable access to a polling place at the time of the election."
Alaska Division of Elections director Gail Fenumiai emphasizes that Petersburg's borough incorporation vote is being conducted by the state, not the city. However, she says the state's special ballot is not available for this type of election.
"It is only available for voters in state primary, state general and state special elections and this is not considered a state special election. This is an incorporation election," according to Fenumiai, who says its not available for an incorporation election, "because the legislature did not provide for that in state law."
She says the Grauel's situation is unfortunate but at this point, her division does not have the leeway to offer the couple a way to vote early.
Fenumiai says the Alaska local Boundary Commission and the Division of Elections are following state law, "The state has not done anything to intentionally disenfranchise anybody. The statutes are written the way that they're written and it is unfortunate in this circumstance but ballots will get mailed out no later than the 26th of November and I don't have an option for them at this point."
While incorporation elections don't happen often, Fenumiai thinks legislators should consider amending state statutes so that accommodations could be made in future situations like this.
Even though the state's in charge of this vote, some city officials are concerned about the issue and have spoken with Fenumiai about it.
City Manager Steve Giesbrecht thinks a borough assembly would need to resolve the situation for its own elections. He also wonders why the state can't provide the Grauels with an early ballot this time, if it's done so for other state-run elections.
Giesbrecht has also spoken with Mr. Grauel and says he can understand the couple's feeling disenfranchised, "It is kind of a unique situation and, you know, the city would prefer that not happen, that folks don't feel that way and they have an opportunity to place their vote. I just wish I had an answer for it at this point. This election being run by the state, in many ways, it ties our hands as far as how we can get involved and what we can and can't do. It would be great if we could have Mr. Grauel write what he wants and seal it and we send it to Gail and say 'count this as a ballot' but evidently that's not an option."
Giesbrecht and his staff have discussed the possibility of having someone deliver a ballot to the couple.
Lou Grauel says she and her husband have always been independent. She thinks it would be too much to ask someone else to face the risk and inconvenience of delivering a ballot to them in Late November or December. She says the state should provide them with an early ballot as it has in the past.
The couple makes three or four trips to Petersburg a year, one of which was this month. Afterwards they planned to return to Farragut Bay.