For Women of a certain age, Mammograms are an important fact of life. The point is to detect breast cancer so it can be treated before it spreads. Patient advocates and medical professionals credit early detection with saving lives.
The procedure involves taking x-ray images of the breast tissue while it is compressed between two, flat plates on the front of the machine. In a matter of minutes, the images are ready for transmission to Oregon, where a radiologist interprets them. The results are returned in a a few days.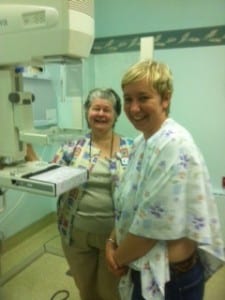 KFSK Public Radio's Development Director, Mindy Anderson, is 43 and recently had her first mammogram. She asked reporter Matt Lichtenstein to come along with a microphone and he produced this story:

For iFriendly audio, click here:
That story produced by Matt Lichtenstein with help from Petersburg Medical Center Staff and, of course, Mindy Anderson. October is Breast Cancer Awareness Month.