A log transfer facility on Kupreanof Island south of Petersburg will see some major changes in the next half year.
The dock, road and parking areas at the Tonka log transfer facility are used by logging and road building companies working on Tongass National Forest lands on Kupreanof's Lindenberg Penninsula. They're also used by hunters and anglers to access the fish streams and land across the Wrangell Narrows from Mitkof Island.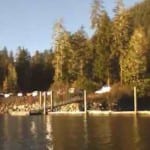 U.S. Forest Service Petersburg district ranger Jason Anderson said Channel Construction has been awarded a contract to build a new log sort yard at Tonka. That will mean clearing around 10-12 acres for two log storage areas on the right hand side of the road. "Pretty much uphill and towards the right," Anderson said. "You know I think it'll be a much larger footprint than is over there now, kind of above where people have been parking. There's an old fuel containment facility up there, like a large berm, I think some folks are familiar with it, there's even some ATVs parked around it. It'll be kind of up above that loop road and area."
The sort yard area will be used for log storage and sorting from the Tonka timber sale. From there, logs can be either rafted or barged to the Viking Lumber sawmill in Klawock. Anderson said a timber cutter is clearing trees this month to get ready for earth work to start.
Anderson said the work will also mean a new 78 foot dock at the site. "It facilitates marine access for the contracted activity such as the timber sale," he said. "But I think the public has been pretty vocal about having an interest in seeing that improved for years and we were able to use this project to sort of facilitate that. I think folks will be pretty happy the 78 foot dock will actually wrap both sides of the existing pile. So it'll be in effect over 150 feet of dock."
A number of local residents keep vehicles at the site for use getting to fishing and hunting spots. The agency is asking those vehicle owners to move them the first rock pit inland from the dock. "It's a pretty tight area so we're hoping that folks will really be conscientious about parallel parking and stacking themselves in there pretty tight," Anderson said. "But yeah I think there's still some folks that need to, and I think there's people still out using the road system for hunting as it is now. So hopefully as people wrap up their fall hunt they'll park in that upper area and we'll be able to move forward once the contractor gets out there in earnest."
The sortyard work contract costs one point one million dollars, with 183-thousand of that going to the new dock float. Work should be completed by next June.