Petersburg's high school sports and activities will likely remain in a 3A classification for the near future – that was the message from the school district's activities director to the Petersburg school board this month. School administrators are also getting ready to include home school students in the local sports program because of legislation passed last year.


For iFriendly audio, click here:
Following a change by the Alaska School Activities Association, some of Petersburg's traditional sports rivals, Wrangell, Craig and Haines dropped down to the 2A classification this year – Petersburg remains in 3A with larger schools Sitka and Mt. Edgecumbe. The classifications are based on student enrollment and PHS is right near the 150-student cutoff between 2A and 3A schools. Enrollment at the high school is expected to drop below 150 next year but administrators are not expecting that will mean a change in classification.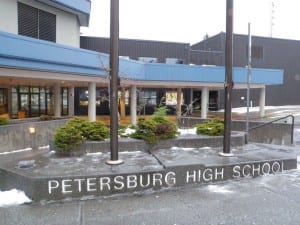 Activities director Jaime Cabral told the school board that the ASAA board of directors has approved a change to the classification rule. "So basically the reclassification rule is going to leave a school after the 2013-2014 count will leave a school at a classification for three years regardless if you enrollment drops below a certain number," Cabral said.
The old system allowed for a change in classification after just two years below that 150-student cutoff. Cabral said the Southeast region opposed the change but was the only "no" vote. Consequently, Cabral said he expects Petersburg will remain in the 3A conference for "a while." Meanwhile, another change could mean more students to draw from for the local sports program. The state legislature passed a bill in 2012 allowing a student in an accredited home school program, charter school or correspondence school to participate in sports or other activities at a public school.
"So home school students in our district are now allowed to participate in high school activities without enrolling in any class at the school," Cabral said. "That is effective July 1st 2013 so we will have to, I'll be working Mr. Dormer and Dr. Thomason, we are allowed to discuss fees. But those students will also count toward our school enrollment. So with the large amount of home school students within our district or in our area I can see us being over 150 for quite some time."
Cabral noted some questions about how the local school district would implement the change. For instance he expected concerns over the limited spots for athletes traveling to other towns and the possibility of a student enrolled in the district being bumped off a traveling team by a home-school student.
Superintendent Rob Thomason wanted to make it clear that the district would welcome home school students to the activities program. "We're gonna work real hard to make sure that there is equity there even though we know they're coming from two different, whether you're enrolled in school or not there are going to be issues to work on. I just wanna re-emphasize that all kids are important, all kids have value and we're going to do our darndest to embrace and welcome everybody that comes," Thomason said.
The board is also starting to discuss whether sixth grade students should be allowed to travel and compete with seventh and eighth graders at middle school sporting events. The board could make a decision on that issue at next month's meeting.
In other decisions, the board approved spending up to 20-thousand dollars on new curtains for the stage in the Wright Auditorium. That's part of a project to spruce up the performance space. The district is also looking into re-upholstering the auditorium seats.
In other action, the board approved a resolution urging the state ferry system to offer high speed internet access so students can study online and check homework assignments while traveling to activities in the Southeast.