The Norwegian art of rosemaling features prominently in Petersburg throughout the year, but even more of the flowing, flowered designs go on display during the Little Norway Festival in May. This year, local painter Polly Koeneman has produced a new show of rosemaled plates, bowls, spoons, boxes and more. Matt Lichtenstein stopped by to take a look at her latest works at the downtown gallery, Wild Celery:

For mobile-friendly audio, click here.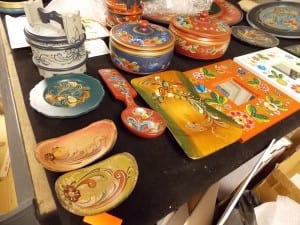 Polly Koeneman's rosemaling goes on display with an artists reception at Wild Celery in downtown Petersburg tonight (Thursday) at five.