Petersburg artist Ashley Duross has been busy this past year. Along with teaching at the high school, she's been pursuing a Master's Degree in the summertime and, of course, painting. Duross is known for her abstract works. Since last June, she produced 12 new paintings in oil and acrylic that go on display tonight at the Clausen Memorial Museum. Matt Lichtenstein stopped by and asked Duross about her about her inspiration for the solo exhibit called "Work Shifts".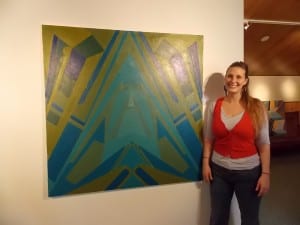 For mobile-friendly audio, click here.
Ashley Duross's solo exhibit of new paintings opens tonight at five with an artist's reception at the Clausen Memorial Museum.