Petersburg will continue with a limited curbside recycling collection program while it explores options for possibly expanding that collection. The borough assembly last night approved an interim contract with the Petersburg Indian Association to keep picking up residential recyclable materials.


For iFriendly audio, click here:
The local municipal government has been paying the PIA, the local tribal government, to collect residential cans, bottles and some plastics, along with commercial cardboard, office paper and post office paper. The PIA has charged 36-thousand dollars a year for the service, but says it costs 53-thousand to run. The difference has been filled by a federal grant, which PIA says is no longer available.
Acting mayor Sue Flint introduced the issue at Monday's assembly meeting. "Due to increased costs, loss of grant funding, and probable change in the near future to the borough's recycling program, the public works department is requesting to enter into an interim contract with PIA that will help both the PIA and the borough."
That interim contract increases the monthly payment to PIA over the next eight months, until the budgeted 36-thousand dollars is used up, or officials arrive at a different solution. That could be an expanded recycling program – based on a pilot program tested on Wednesday garbage customers for six weeks in June and July. That commingled program, which ended July 10th, allowed customers to leave a bag of unsorted materials for collection, with a wider range of allowable materials, from plastics and milk cartons to cardboards and cans. Borough manager Steve Giesbrecht reported that public works is looking at the results of the experiment and will report back.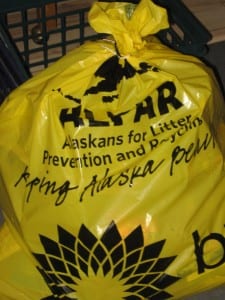 Under the borough's new solid waste shipping contract, it costs 105 dollars to ship a ton of garbage out of town. A ton of recycled materials costs 33 dollars.
Assembly member John Havrilek wondered if the increased cost of the recycling contract would be covered by savings from reducing garbage.
Public Works director Karl Hagerman responded that he didn't yet know. "The goal of course is to divert as much solid waste from that stream as possible to fund this contract and other portions of the sanitation budget. Don't know that that's possible, depends on what we do with the recycling program. The commingled trial as Steve mentioned went very well and there's a lot of potential there. So that if we do move toward something like that it will definitely help with the diversion and the numbers keep getting better but I haven't put a fine point on it yet."
Hagerman said he'd be putting together a report and giving his opinion on the best course forward.
Havrilek also asked about the possibility of eventually putting a recycling collection contract out for competitive proposals and Hagerman said that could be a possibility, depending on future discussions with the PIA.
The interim contract with PIA was approved by the assembly by a 6-0 vote with mayor Mark Jensen not at the meeting and assembly member Kurt Wohlhueter attending by phone.