A trailer fire early Saturday morning claimed the life of an elderly Petersburg man.
Volunteer fire fighters responded to the call of a fire around 3 in the morning Saturday, at space number 12 in Magills Trailer court.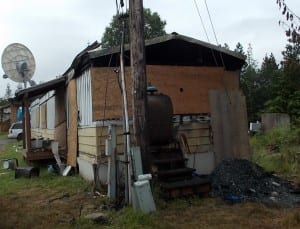 Fire department spokesman Dave Berg said volunteers arrived to find one end of the trailer burning with fire coming out of the structure. Berg said a neighbor was spraying water on the flames and firefighters were told that a person with limited mobility was trapped in the trailer. "The police upon arrival took out one of the doors but were overcome by smoke and had to back away," Berg said. "The smoke was very thick coming out of the available doors in the unit. So upon arrival of our first engine we sent in a search team with a hose line and after just a short amount of time another engine showed up, we completed our lay of hose lines and continued the search and we found an individual who was on the floor of the kitchen and unfortunately he was pronounced dead at the Petersburg Medical Center."
The deceased man was identified as 79-year-old Frank T. Neidiffer.
Berg said the assistant state fire marshal is investigating and the cause of the fire has not yet been determined. "The individual deceased was a known smoker," Berg said. "There was evidence of smoking in the bedroom where the fire started although we can't, the fire is still under investigation by the state fire marshal. We also are looking at the source being an electrical plug strip, which had a number of devices plugged into it and in this kind of a situation we may never know exactly what caused the fire. But we believe the individual was overcome by smoke and was not able to get into his wheelchair and made out it as far as the kitchen."
The trailer sustained heavy smoke damage and was burnt on one end. Firefighters were able to extinguish the blaze quickly. Berg said volunteers found no smoke detectors in the trailer but did find unused fire extinguishers.