Commercial and charter fishing fleets and the public will have a little longer to comment on a catch sharing plan for halibut.
NOAA Fisheries announced Wednesday, July 24 it would grant a 14-day extension for the comment period deadline for the proposed plan. Catch sharing would allocate a sliding percentage of the overall allowable catch for halibut between the commercial and charter fleets in both Southeast and the central Gulf.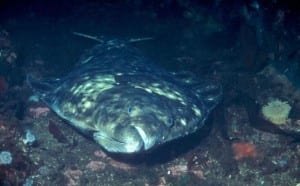 The 45-day public comment period started in late June and was set to end August 12. It's a time when both commercial and charter fleets are out working. That was a point made by many people commenting according to Julie Speegle, spokesperson for the agency in Alaska. "We know a lot of the comment submitted to us were asking for a comment period extension of 45 days but we took a very close look at this and determined that we can grant an extension for 14 days, which allows a comment period of two months and an extension longer than that would jeopardize implementing the catch sharing plan for the 2014 season," Speegle said.
The allocation plan was recommended by the North Pacific Fishery Management Council and has support from commercial fishing industry representatives. They argue that the commercial catch has been managed for halibut abundance and limited to a certain catch amount each year and think the charter fleet should be as well. The charter fishing industry is concerned that the plan will bring with it more restrictive management measures like size limits that will make it hard to draw clients to fish in Alaska.
Speegle encourages people to read the proposed plan before they submit comments. "There's a lot of information out there that's not 100 percent accurate and you know I think focuses on the worst case scenario. We want people to read the actual plan before they comment," she said.
The proposed catch share plan also would set up a system for the commercial fleet to transfer fishing quota shares to the charter fleet.
Senator Mark Begich Wednesday said he was disappointed with the length of the extension. "Giving Alaskans just two weeks more during the busy summer fishing season to comment on a contentious plan on how we manage our state's halibut fishery is a disservice" Begich said. He urged NOAA Fisheries to reach out to fishermen about the new deadline.
You can search for halibut catch sharing plan online read the proposed plan and comment there. The new deadline to comment is August 26th.