SEACC's  executive director has left the organization.
Lindsey Ketchel  spent about five years with the Southeast Alaska Conservation Council.
Her resignation was announced Oct. 3 on the Juneau-based environmental organization's website.
It was posted by Board President Clay Frick, who only said Ketchel was, quote, "moving on."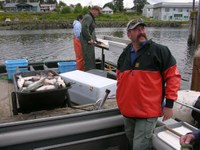 SEACC's Forest Program Director Bob Claus is interim executive director. He's a former state trooper living on Prince of Wales Island.
The organization was founded in 1970. It's been involved in many lawsuits and lobbying efforts to block or limit logging and other development in the Tongass National Forest.
More recently, it's partnered with the Forest Service on habitat restoration and invasive species cleanups. In a controversial move, SEACC this year endorsed a revised Sealaska land-selection bill.
SEACC serves as an umbrella organization for 14 Southeast environmental groups, from Haines to Sitka to Craig.
A separate regional environmental organization formed two years ago. The Greater Southeast Alaska Conservation Community, or GSACC , has challenged some timber sales that SEACC has not opposed.
SEACC says it is in the process of recruiting a new executive director.