A dedicated group of local third, fourth and fifth graders will run and walk five kilometers tomorrow in Petersburg and the community is encouraged to come out, run or walk with the group and support them. The event is part of Girls on the Run, a national after school program that promotes emotional, social, mental and physical development through games, running and other activities.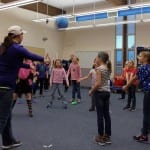 Joe Viechnicki spoke with some of the participants at their practice this week.


For mobile-friendly audio, click here:
The five kilometer run is Saturday at 10 a.m. at the elementary school. To take part, register before hand in the Stedman cafeteria from 8:45-9:45 a.m. or at Lees Clothing.