School officials in Petersburg are expecting the trend of declining student enrollment will continue next year, which would impact state funding to the school district. While larger districts in Alaska are facing big budget shortfalls and laying off teachers, Petersburg's school district expects to be able to weather a drop in funding thanks to conservative budgeting and not refilling all staff positions. However officials expect more difficult budget decisions are coming if the declining student numbers continue.


For mobile-friendly audio, click here:
Petersburg's school district is starting to develop its spending plan for next year and is facing another year with fewer students. Finance director Karen Quitslund said they're expecting 424 students in the three schools next year, a drop of six from the current year. "Compared to 2007 we had 561," Quitslund said. "So, the trend is that we are steady slope declining. And we also can look at by school level and see that that trend is also following. We have a little bit of fluctuation in actually all the schools but the trend is still declining."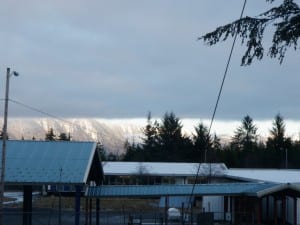 Student enrollment peaked in 1997 when the district had 769 students. With a few exceptions, its been dropping every year since. Student numbers impact funding from the state and the bottom line for state money could be down around 300-thousand dollars next year.
Supertintendent Rob Thomason said budget cutting may eventually have to happen in the future but for the short term the district has been conservative in its spending. "I like to say we're letting a little bit of air out of the balloon, but we're not switching balloons or popping the balloon. We, over the last five years, have had great success with leveraging retirements and people who've moved, just through attrition, we're going to continue to try and do that."
If the enrollment projection holds up and dips down below 425 student, the district will no longer qualify for money for three schools under the state's complicated school funding formula. Nevertheless, Thomason said the district will continue to operate its elementary, middle and high school. "There will be fewer people to deliver some of the services but we have fewer kids to whom to deliver services," he said. "The day may come for our community where we have to look at what programs can we actually offer but right now and I would say for at least the next three years we are in pretty good shape in terms of allowing attrition to make the adjustment for our loss in funding."
Thomason and Quitslund discussed next year's budget picture with the school board this month and will be submitting their annual request to the borough government for the local funding this winter. Thomason said he's not anticipating an increase or decrease in that local request, which has been 1.8 million dollars.
Over the long term, Thomason expected that the trend of declining enrollment will continue. He's still optimistic for a turnaround. "In spite declining enrollment, in spite of declining funding, we still have a very strong picture, very strong school district and Petersburg is a really exciting place to be. I just keep believing that Petersburg is so great that there's gotta be a renaissance here. There's going to be people coming in. Jobs are going to be created. I don't know where the bottom is but we've got to be getting close. I just wanna reassure people, it's still going to be a great school district even if we talk about reducing funding. We are not where many school districts in the state of Alaska are."
In February, the district will hold budget work sessions with administrators and an advisory committee and the board will start reviewing the draft spending plan in May.