Petersburg officials are waiting to hear an offer from the state of Alaska on the possible transfer of three state-owned docks in Petersburg's new borough. The borough wants to secure state funding to repair the remote docks, if the local government agrees to take over those facilities from the state.


For mobile friendly audio, click here:
On a trip to Juneau late last month, Mayor Mark Jensen met with the Department of Transportation's State Ports and Harbor Engineer Mike Lukshin, the Alaska Department of Transportation on the status of three state owned docks in the Petersburg borough. The docks are at Papke's Landing, Kupreanof and Entrance Island in Hobart Bay.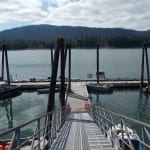 Jensen told the borough assembly he expects the state to offer the dock facilities to Petersburg along with some money. "It sounds like it's gonna be the type of deal where they offer all three to us to take 'em and there will be some dollar value, dollar amount that comes with 'em. We will be getting a letter from him. He's thinking about waiting til after the decision is made on the northern boundary of our borough and we'll go from there."
The dock in Hobart Bay would be impacted by the appeal of Petersburg's northern borough boundary. A superior court judge has ruled in favor of Petersburg in that case, however, that ruling could still be appealed.
The floats at Papke's and Kupreanof were built in 1961 while the Entrance Island Float was built in 1956. The state did some repair work and maintenance on the facilities in the 70s, 80s and 90s.
Assembly member John Havrilek wanted to find out about the condition of the three docks. "What I'd like to see if possible if we could get some just ball park figure of what those, I know Papke's is in horrible shape, what those might cost to get into at least a safe condition. I don't know on what the condition the other two are. But it'd be nice to know before they said you know we'd like to give you those and we'll give you so much money for it, if that money would even come close to the repairs that are needed."
The City of Kupreanof has expressed past interest in taking over the dock in that community and Petersburg officials have discussed a purchase or transfer of lands, the boat ramp and the dock at Papke's Landing. That's about 10 miles south of down.
DOT has been trying to transfer state-owned facilities to local governments. It did so with Petersburg's North Harbor in 2005 after negotiating payment to the city of Petersburg for replacing the old docks and floats.
Harbor master Glorianne Wollen noted the difficulty for old city of Petersburg in securing enough funding for North Harbor. She said the DOT has mentioned some dollar amounts for the more remote docks. "I know that all of our discussion back and forth with DOT is we'll never probably enter into that kind of an agreement again. That was just really unfair to the borough, or to the city at the time. So he's been talking a little bit more reasonable numbers. And the numbers that he's thrown at me is right around a million perhaps for each facility. So if you we're to take that and then go through the municipal harbor grant which they would all be eligible for you could increase that to you know, two million."
Petersburg's assembly took no action on the dock issue.
In other assembly business, borough manager Steve Giesbrecht gave an update on plans to repair the wooden Rasmus Enge Bridge on Sing Lee Alley and said work is scheduled to start up this month. "The tentative plan for the project is for public works to start on the bridge in mid March kind of weather dependent. It'll take approximately two months to complete. Some of the stringers will be replaced and all of the decking to try and get some more life out of that bridge." Giesbrecht says the state DOT has de-rated the bridge until the work is complete, allowing a maximum weight limit of three tons per axle, 12,000 pounds for cars and trucks or 18,000 pounds for tandem rear axle trucks.
The assembly also approved the third and final reading of revised borough ordinances on elections and criminal code.