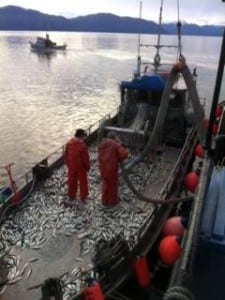 Aerial surveys of herring spawn have continued in the Juneau District by the Alaska Department of Fish and Game. The department conducted surveys of Seymour Canal Tuesday and Wednesday, and lower Lynn Canal Wednesday. They say survey conditions were excellent.
In Seymour Canal Tuesday, approximately 0.8 nautical miles of active spawn was observed, mostly on the Admiralty shore south of Pleasant Bay. On May 7, approximately 0.1 nautical miles was seen in the same location. Small schools of herring were seen near the spawn on both days. The total amount of documented spawn is now 4.8 nautical miles.
In Lynn Canal, no spawn was seen yesterday. There was one good sized school of herring observed inside Statter Harbor in Auke Bay, several schools of herring were seen in the vicinity of the Auke Bay ferry terminal, and one school in Indian Cove. Numerous schools were observed in north Tee Harbor and scattered along the Breadline north to the Shrine of St. Therese.
Here are the full survey results: