While it looks to be failing statewide, ballot measure one had strong support from voters in central Southeast Alaska Tuesday.
The referendum sought to repeal Alaska's oil tax law passed by legislators in 2013. In unofficial results, voters in House district 35 were 2-1 in favor of the repeal in Tuesday's primary. Some 2,353 people voted "yes", over 67 percent of those who voted in the district. That's against 1,133 "no" votes, or just over 32 percent. The "yes" votes carried every precinct in the district, with the biggest margins in the two Sitka precincts along with Petersburg-Kupreanof.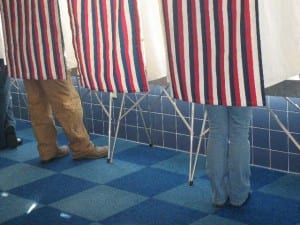 In addition to those communities, the house district includes Port Alexander, Pelican and Elfin Cove, Tenakee Springs, Kake, Angoon, Hoonah and most Prince of Wales Island communities.
For state representative, Democrat Jonathan Kreiss-Tomkins of Sitka had 1,535 votes. That compares to 1,126 votes for Republican Steven Samuelson of Petersburg.
Samuelson was thankful Wednesday for the people who turned out to vote. "Real important to get out there and vote and I'm glad so many did. I wish voter turnout was a little bit better still I appreciate it very much. Going forward there's still a lot of work to do. I'm happy with these numbers. I look at this and see the places that need to be worked on and just make sure that we keep moving forward from here."
Samuelson thought voters sent a message Tuesday about the state's oil tax law. Ballot measure one sought to repeal Senate Bill 21, the current oil tax law. The measure would have replaced the Parnell administration's oil production tax with Alaska's Clear and Equitable Share, or ACES, the oil tax law passed by the legislature during the Palin administration. "With the ACES program it's failed and as far as the Senate Bill 21 I think the people have clearly spoken that both they need to be worked on. People aren't happy. They think that Senate bill 21's flawed and ACES is not doing what it's supposed to do either because under ACES it was a constant decline. So this district I think it's important to have somebody that's going to be in the majority in the house that will be able to express this district's feelings towards where we need to go."
Samuelson says he'll be ramping up his campaigning with the primary behind him. He'll face Kreiss-Tompkins in the general election this November. Kreiss-Tomkins campaigned for a yes vote on ballot measure one. "A margin like this especially with a broad statewide electorate, it may not portend for the best result for repealing this tax cut unfortunately. But it's a really strong message that you know you drop 15 million dollars, the most expensive statewide initiative campaign in Alaska history and people still think independently and critically and vote for the public interest and to me that's re-assuring."
Despite the outcome of the ballot measure, Kreiss-Tomkins was optimistic about the results of Tuesday's primary voting around Alaska. "There were some very close legislative primaries races across the state and with an eye towards building a bi-partisan coalition. I thought there were some promising results there and I hope that bodes well for trying to resurrect a bi-partisan and coalition oriented majority in the legislature."
In other results from the district Tuesday, Democratic candidate for governor Byron Mallott outpaced incumbent governor Sean Parnell in House District 35. Mallott had 1,245 votes while Parnell had 1,090.
In voting for U.S. Senate candidates, Democratic incumbent Mark Begich received 1,475 votes. The top vote getter on the Republican side was Dan Sullivan with 551 votes. Votes for Republican candidates were split in the three-way race. Sullivan had 37 percent, Joe Miller received 36 percent and Mead Treadwell with 22 percent in the district.
The turnout in the district averaged around 26 percent.