Former city councilor Marc Martinsen has filed paperwork to run for a three-year term on the assembly. He'll be challenging two incumbents, Cindi Lagoudakis and Bob Lynn seeking to keep their seats.
Meanwhile, two other incumbents Jeigh Stanton Gregor and Kurt Wohlhueter are seeking two year terms and do not have any opponents.
The deadline to file was Tuesday at 5 p.m. All but six of the 37 available seats on Petersburg's advisory boards and committees have candidates for the October 7 borough election.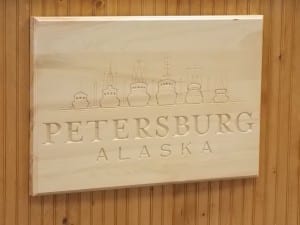 All three school board members whose appointed terms are up this fall will be running to keep those seats. Jay Lister, Megan Litster and Sarah Holmgrain have filed for school board.
Dave Kensinger has filed for a one year term on the Planning and Zoning Commission. Three seats remain without any candidates.
Aimee Marsh joined three other candidates filing for the public safety board.
There's still one seat without any takers on that board, and two open spots on the hospital board as well.
Here's the final list of candidates provided by the borough clerk's office:
Assembly: (2,2yr. & 2,3yr)
Cindi Lagoudakis, 3 yr. term
Bob Lynn, 3 yr. term
Marc Martinsen, 3 yr. term
Jeigh Stanton Gregor, 2 yr. term
Kurt Wohlhueter, 2 yr. term
School Board: (1,3yr.& 1,2yr. & 1,1yr.)
Sarah P. Holmgrain, 3 yr. term
Jay Lister, 1 yr. term
Megan Litster, 2 yr. term
Hospital Board: (2, 3ry. & 1,2yr. & 1,1yr)
Kathi Riemer, 3 yr. term
Steven Samuelson, 1 yr. term
2 seats w/o candidates
Planning & Zoning Commission: (3,3yr. & 2, 2yr. & 2, 1yr)
David Kensinger, 1 yr. term
James Demko, 3 yr. term
Chris Fry, 3 yr. term
Dona M. Malhiot-Laubhan, 2 yr. term
3 seats w/o candidates
Harbors and Port Advisory Board: (3,3yr. & 2,2yr. & 2, 1yr)
Mike Bangs, 3 yr term
Bob Dolan, 2 yr. term
Jeff Pfundt, 3 yr. term
Glenn Reid, Jr., 2 yr. term
Dave Thynes, 3 year term
Bob Martin, 1 year term
James Stromdahl, 1 year term
Library Advisory Board: (3,3yr. & 2,2yr. & 2,1yr.)
Mary Ellen Anderson, 3 yr. term
Barb Fish, 2 yr. term
Alec McMurren, 2 yr. term
Marilyn Menish-Meucci, 3 yr. term
Sunny Rice, 1 yr.
Lizzie Thompson, 3 yr. term
Chelsea Tremblay, 1 yr. term
Public Safety Advisory Board: (2,3yr. & 2,2yr.& 1, 1yr.)
Jim Engell, 1 yr. term
Sally Norheim Dwyer, 3 yr. term
Stan Hjort, 3 yr. term
Aimee March, 2 yr. term
1 seat w/o candidates