It's not official yet but it looks like residents in the small Southeast community of Edna Bay this month voted to become Alaska's newest second class city.
The small community is on Kosciusko Island near Prince of Wales Island, about 90 miles northwest of Ketchikan. Edna Bay voted on incorporation as a municipal government September 16th.
Unofficial election results posted on the Division of Elections website have 27 people voting "YES" to incorporate, and only three voting "NO." That's out of a total of 51 voters in the community.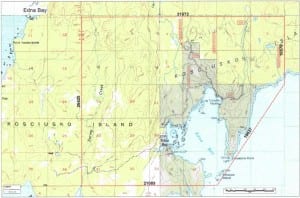 The state allows an additional 15 days ballots to come in by mail if they're postmarked from outside the country. Division of Elections director Gail Fenumiai expects to be posting updated unofficial results on October 3rd and thinks the results will be certified by the following week.
Once the results are certified, Edna Bay would become the state's newest second class city and the first since Gustavus incorporated in 2004.
A second class city can levy a tax, make and enforce local ordinances and borrow money for projects among other powers. Residents also elected seven people to serve on a new city council that will govern the city.
Tyler Polestra was one of the seven who looks to be winning a city council seat. "We wanna maintain what Edna Bay has always been here," he said. "We don't want to turn into Craig or a large city. We want to keep what's necessary for the people, provide enough local services over time that the people want to see here to make life comfortable for people but not get too far beyond our means to the point where we have to start looking at taxation and things that will impose challenges on the variety of people that choose to have different types of life styles here."
Edna Bay's petition cited the need to improve roads, bridges and a dock on the island. Polestra hoped the city can accomplish those tasks. "I would say the biggest needs of the community in the near future are stopping the degredation of our infrastructure before it's too late. And the only way we can get to that point is become a second class city which is what started this whole thing to begin with was to fix our roads, be able to apply for and maintain funding for our dock facilities, which are also deteriorating and obtain the necessary facilities we need for alternative energy such as we've looked into getting a hydro power generation system out here."
A community association with volunteer board members has been the only local government organization in Edna Bay. Polestra's mother Myla is another resident elected to the city council and she said she and other volunteers will continue to make the community function. "Really the whole impetus for the petition and the second class city approach was simply the need to upgrade our legal status to one that would allow us to work better with state and federal agencies. And that's the only thing that we see changing is simply our legal identity but the way the community functions and governs itself will remain the same," she said.
The regional Native Corporation, Sealaska, opposed the incorporation saying the community presented no evidence it would have enough money to provide municipal services. Sealaska is hoping to be granted Tongass National Forest land including some land that would be part of the new city.
As proposed, the new municipal boundaries would encompass 27 and a half (27.5) square miles of land and water on Kosciusko Island and have around 58 residents.