The only contested race on Petersburg's municipal election ballot this year is for borough assembly. Three candidates are competing for two seats. Joe Viechnicki spoke with the candidates and has this report.
Three people are hoping to land a three-year term on the assembly. Two are finishing out appointed terms this fall. 68-year-old Bob Lynn was named to fill a vacant seat last November. He's retired from a 30-year career with the U.S. Forest Service, 11 of those in Washington D.C. where he was liaison between the administration and Congress. Lynn also worked for four years as the Forest Service's Stikine area supervisor and lived in Petersburg. These days, he and his wife live at a remote home in Duncan Canal.
"We're probably one of the fartherest that live out, except for those people up north on the mainland," Lynn said. "And so we're pretty well self sufficient out there."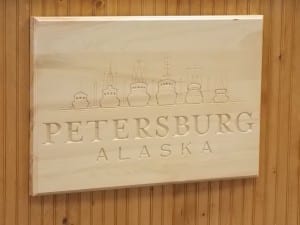 To get to Petersburg, Lynn and his wife use the boat dock at Papke's Landing, ten miles south of town. He says it's about a 45-minute boat ride and is, of course, tide and weather dependent. Lynn was on the commission that drafted the charter for the Petersburg borough and wants to see the charter implemented as it was intended. "I had a hand in writing the pre-amble to that charter and I feel very strong about what's in that pre-amble and one of them is I think that we need to look at all lifestyles in this and whoever's on that assembly really needs to represent all the people in the borough," Lynn said. "And I feel very strong about that."

Along those lines, Lynn said the charter language is important in drafting new laws for the Petersburg borough. "It talks about let's not put anymore government out there or any more rules than we absolutely need. And every time we look at one of these ordinances and we look at that I go back and say do we really need this, is it necessary type of thing. And again I feel very strong about that. Let's not put any more rules or regulations, etc. out there than what we really need."
Lynn said another concern for him is the condition of borough finances and the local economy. "I don't think the economy's come back like we thought it would. I think it's gonna be quite a while before it comes back. At the same time we recently have been told we can expect very little funding for projects from the state next year. We have to be very careful about what we send in. We've been told at the federal level that we can't expect the Payment in Lieu of Taxes funds and some of those to continue for the long term. I think we need to get in a better position to take care of ourselves down the road because I don't think we can depend on all the funding we've got in the past."
Lynn hopes voters pass the financial disclosure exemption and says the state's filing requirements do not addresses potential conflicts of interest. He thinks those personal interests come out anyway in a small town. Lynn does not support an end to the senior exemption from sales tax in 2019. He opposed even sending that issue to the ballot because he thought people would still need the exemption after 2019.
Another incumbent assembly member Cindi Lagoudakis also voted against putting the senior exemption sunsetting on the ballot. She's also running for election.
"I'm sure if folks are paying attention to local assembly meetings they've heard me raise objections to the one that essentially sets up two classes of local seniors, the haves and the have nots, some will qualify and some will not after a certain date," Lagoudakis explained. "I can't say that I'm in favor of that. I do like the idea that we might have a tax exemption for fuel and for groceries that helps lower income folks."
Lagoudakis said the borough has declining sources of revenue from the state and additional sales tax revenue is needed to provide borough services. The 60-year-old was appointed to a vacant assembly seat in February of 2013. She's semi-retired from a 26-year-career with the U.S. Forest in California, Oregon and Alaska. These days she works at the Petersburg Chamber of Commerce.
Lagoudakis supported formation of the borough and wants to continue to be involved. "I saw that as an opportunity for us, I think to secure our economic future. We need to be looking areawide and not just service area one. Even though not everyone was in agreement that that should happen I think it will be a good thing overall. I'm really interested in seeing what the planning committee ends up doing as far as land selection and recommendations for zoning."
Lagoudakis would like to see if there are ways the borough can increase job opportunities for people working in the trades and she'd also like to see more affordable housing options "to encourage young families to stay or to seek out Petersburg as a community. We've got a wonderful school system, we've got a beautiful community, we've got a lot of amenities here but we need to have places where people can afford to live."
Lagoudakis has served on various volunteer boards and committees in Petersburg and elsewhere, including the Petersburg arts council, and Alaska Native Sisterhood. "I think I do my homework and pay attention," she said. "I also listen to people. I don't come with trying to put forward my own personal agenda. I very much try to sense where people are feeling and I will listen to comments and criticisms that are things that I might not have considered, so I'm definitely willing to change my mind and I try to be fair."
Another candidate for the assembly is no stranger to local politics. 54-year-old Marc Martinsen was on the Petersburg city council for in the late 90s and early 2000s before he moved to Oregon in 2004. He moved back to his hometown in 2011. He says he's been commercial fishing since he was 14 and also has worked as a welder, truck driver and equipment operator. Martinsen calls himself a political junkie and says he wanted to offer voters a choice.
"A few things really kinda tick me off and get me annoyed," Martinsen said. "The designated hitter rule, football in August, basketball in June and unopposed elections. I guess I just couldn't sit by. I waited 'til the very last day as you know. Well I just wanted to see a race out of it."
Martinsen said one of his concerns is with spending by the borough government. "You know we need to kick back and hold back and take a look at things see what the revenue's gonna be like without raising taxes. I guess I've seen fisheries come and go and these last few years, just not being part of it for a long time, watching the money being made has been really phenomenal but these things never last. I mean they always come and go. So I think we just need to hold the line here and not get too overly excited about buying and spending and taxing."
As for borough projects he supports, Martinsen said he's happy the drive down dock is being completed in the South Harbor. "And I'd really like to see what we kinda call the west wall down there where the cold storage is, getting a wall in there and sheet pile, crane, making this, really, that would be the finishing touch on a really beautiful industrial harbor."
Martinsen also wants the assembly to support the timber industry. And he hopes that voters opt to keep the sales tax exemption for seniors. "There's so many people out there that could get it and probably have applied for it but they never use it because they have money and most of their stuff goes through their business so they never bother with it. But there are probably people who probably do need that tax break and I don't think we should touch it." He doesn't support a tobacco tax either.
Two other appointed assembly members are running to keep their seats but they don't have any opposition. Jeigh Stanton Gregor and Kurt Wohlhueter are running for the two two-year terms.
Absentee voting is available in-person at the borough clerks office through noon on Monday October 6th. The polls are open on election day Tuesday October 7th from 8 a.m. to 8 p.m. at the aquatic center.