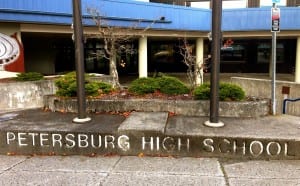 Petersburg High School's volleyball team finished well in a large Juneau tournament called the Juneau Invitational Volleyball Extravaganza, according to Coach Jaime Cabral. Twelve teams competed including some 2A schools and a 4-A team from Anchorage.
There were so many teams at the tournament that they got pooled into either a silver or gold bracket depending on how they were doing in their matches. As Cabral explains, his team's goal was to get into the gold bracket, and they were able to do that.

Besides looking forward to regionals, Cabral this week is helping to coordinate a large wrestling meet that will be here at home this weekend.
The wrestling team started their season a few weeks ago and had their first meet last week in Metlakatla.
Cabral, who is also the school district's athletic director, says this weekend will bring lots of athletes to town.
Right now we have about 166 wrestlers coming to town this weekend," Cabral says. "We also have Kotzebue coming in. They wanted to come down South and get a little variety so they're sending a couple of kids from Kotzebue to our tournament which we feel very privileged that they're here. It'll be starting at about [3 p.m. Friday] until whenever we get done Friday night. Then right back at it at 8 o'clock Saturday morning. So, we will be in the gym, a lot of wrestling for the weekend trying to get as many matches as we can on the mat for the kiddos. Coach Van Swearingen and Coach Schwartz are doing a phenomenal job up there with the kids and they're just working hard. Looking forward to it.""
The high school's swim team is in Sitka this weekend before hosting regionals here at home on Halloween weekend.