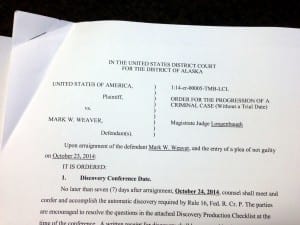 Mark Weaver has pleaded not guilty to charges of possessing unregistered explosives. A hearing was held Thursday (Oct. 23) in federal court in Anchorage.
The 59-year-old Petersburg resident was indicted in August on two felony counts. The first count charges Weaver with possession of a destructive device that was not registered to him and the second count charges him with possessing seven unregistered hand grenades.
The charges stem from an incident that happened in July, when Weaver was injured in an explosion. He was at the borough's rock pit located behind the community's airport. He drove himself to the hospital where he was found outside lying on the ground near the emergency room. Weaver was medivaced to Seattle for treatment and then was detained by federal authorities.
Officers later found over 50 pounds of explosives in his car and other locations. They also found electric detonators and cord.
The explosive was Tovex, which is like a modern-day dynamite. Officers also found a large amount of smokeless powder which can be used for explosives. Federal agents destroyed all of it at the rock pit later that week.
Weaver's trial is set for December 2 in Juneau.
Weaver's defense attorney is Phillip Paul Weidner in Anchorage.
The prosecuting attorney is Assistant U.S. Attorney, Joe Bottini also in Anchorage.