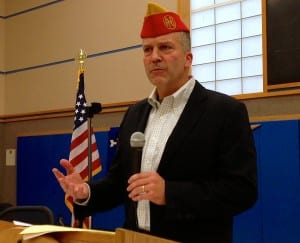 Several politicians running for office in the November 4th general election were in Petersburg for the Alaska Native Brotherhood Alaska Native Sisterhood convention in Petersburg recently. Included in the group was Republican Dan Sullivan who is trying to unseat Democrat incumbent Mark Begich in the U.S. Senate.
During his speech to ANB and ANS delegates, Dan Sullivan spoke at length of the importance of Native veterans and his own service as a Marine. He also talked about his wife who is Alaska Native and said he does not want to restrict subsistence rights.
"I support subsistence as the highest priority use for our fish and game as required under both state and federal law," Sullivan said.
He was referring to what the Begich campaign and others have touted as an example of how Sullivan is against Native rights. It goes back to 2010, when Sullivan was the State's Attorney General and the State continued litigation against Athabascan elder Katie John. For decades, John had fished for salmon on her native allotment along the Copper River. The federal government allows for that through a federal subsistence priority but the state wanted jurisdiction over subsistence fisheries.
After his convention speech, Angela Denning pressed him further about that issue and others important to Southeast Alaska.