Petersburg's public works department fixed a difficult sewer line break at Hungry Point just north of town this week.
An off-duty employee noticed some water coming up next to the road last Saturday. Public works director Karl Hagerman said crews started looking into the problem on Monday after temperatures warmed. Hagerman said they eventually found a hole in the 40-year-old sewer line underneath the road. "There's actually a fairly good sized hole in the bottom of the pipe that had been corroded and it's been in place for about 40 years and it is influenced by tidewater at that point as as you might imagine," he said. "So the corrosion on the pipe caused the hole and we were seeing quite a bit of sewage going out the hole instead of down the pipe."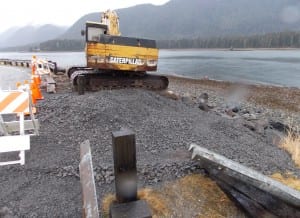 Borough workers had to dig a hole about nine feet deep with an excavator perched on the side of the road, through a boulder seawall that holds up the road. Traffic was limited to one lane on Sandy Beach road at that spot. The old city sewer line was not installed as the workers expected but they located the problem spot and were able to fix it. Hagerman praised the work of the public works road crew and waste water department for turning off a sewer pump station during the work. "We had to work in concert with the waste water guys to turn the pump off for an extended period of time and make the repair, in the midst of rain and wind and tide drove us out two days in a row, the tide coming in over the site. So, it was a very difficult operation but like I said the crew did a fantastic job."
Hagerman said the line is fixed for now but will have to be permanently replaced at some point.