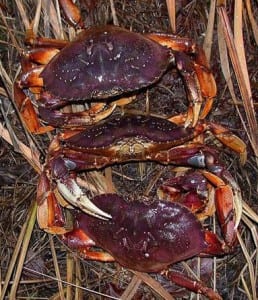 Commercial crabbers this fall added another one million pounds of Dungeness crab to a better than average season. Angela Denning reports on the preliminary harvest numbers that the State Department of Fish and Game has compiled.


While a few areas still remain open to commercial Dungeness fishing, the majority of region closed on November 30. Compared to historical numbers, this year has been a good one.
Joe Stratman is the State's Lead Crab Biologist for Region 1 which includes Southeast Alaska.
"This total full season harvest thus far is above the ten year full season average," Stratman says.
The numbers break down like this: Through November 30, the fall harvest is 975,000 pounds. That is a little less than last fall's harvest which came in just over one million pounds but it is still better than the 10 year average.
When added to this year's summer harvest for Dungeness, the total comes to just over 5.04 million pounds. That is well above the 10 year average for total season harvest which is 3.78 million pounds.
137 permit holders reported landings in the fall fishery.
Stratman says that there were areas that stuck out as having higher catches this fall.
"District 6 which includes places like Duncan Canal, Wrangell Narrows, portions of Sumner Straight had the largest harvest this fall at 168-thousand pounds," Stratman says. "This district alone comprised 17 percent of the total fall harvest."
In terms of effort, fishermen in District 8, which includes the Stikine flats led with 29 permits recording landings there during the fall season.
This year, prices for Dungeness crab were consistent throughout the summer and fall. The summer prices averaged nearly three dollars per pound and the fall was just three cents less. Both were much greater than last fall's price of $2.49 a pound.
Fishermen made nearly $15 million at the docks so far this year.
Commercial harvest information is how the state keeps track of how the Dungeness fishery is doing.
"All of the data sources that we have are fishery dependent," Stratman says. "We have harvest tickets and port sampling data."
So far, the fall season produced 19 percent of the total Dungeness harvest this year. The ten year average for the fall-winter season is about 25 percent. That could still be reached when the last of the winter numbers come in.
Portions of Region 1 remain open to winter commercial fishing. That includes Districts one and two near Ketchikan and Prince of Wales Island and part of Section 13-B near Sitka. Those areas will remain open until February 28.