Christmas lights are a tradition for many families in Petersburg but one man makes a special effort every year to brighten up the whole community.
Matt Bryner is rather humble about it all but he's the guy who volunteers to take care of the lights on the community tree, at the library, and helps his neighbors out with theirs. The community tree in Petersburg features thousands of Christmas lights. It sets the South end of downtown aglow.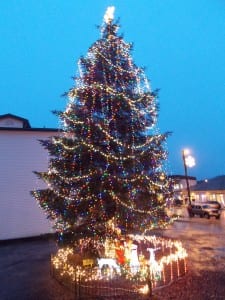 "I don't think you can have too many [lights], you know?" says Bryner. "Some people might say, 'well…' but no, you can't have enough Christmas lights on a tree."
With that kind of attitude, it's easy to guess how Byrner's waterfront home is decorated this time of year. The house on Sandy Beach road is like Christmas itself. Christmas music greets you as you walk through the front door and everything seems to be trimmed in red, gold and green.
Bryner usually puts up the lights a week or two before Thanksgiving. He says it's good to do it early because the weather is better for climbing around on the roof or ladders. His lights still stay up until about mid-January.