Petersburg borough residents have a few more days to comment on an early version of a planning document for the community.
The borough has commissioned an update for Petersburg's comprehensive plan, which looks at land use, facilities, challenges and opportunities for the municipality. The Anchorage consulting firm Agnew Beck is drafting that document along with a master plan for the borough's harbor facilities. The company this winter compiled a summary of emerging themes from public input and a community-wide survey. The deadline to provide input on that summary has been extended until April 11th.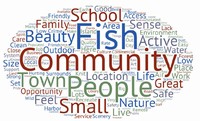 During a KFSK radio call-in show this winter Agnew Beck project manager Shelly Wade agreed the emerging themes summary was an early look at a draft comprehensive plan. "This is like that transition piece from just learning and listening to folks to actually starting to draft what is the community's vision for the future and also some potential goals in these main areas," Wade said. "So what are the key areas and things that go into a community plan and those are things like land use and environment, housing, definitely harbor development, transportation, economic development, public facilities and services, so all of those things woven together."
The consultants are looking to hear from borough residents about any questions or concerns about the summary or whether any issues have been left out of that document. In a survey this winter, Agnew Beck received over 350 responses, more than 10 percent of the borough population. The company's Chris Beck said planners started to hear about some of the challenges that local residents see in the community. "They haven't heard of this term comprehensive or community plan and wonder what it's real," Beck said. "So people started to make that more tangible and real by asking questions or translating the planners words into things like, this plan needs to answer the question are kids gonna have jobs here? How do we deal with a community that's losing population? How do we deal with the fact that housing prices are fairly high for folks that don't have a particularly good job and are there things the community might do to address these issues?"
The emerging themes summary was also based on interviews with various community members and several meetings in December. As far as challenges, the summary highlights the aging population in the community. Petersburg will have one of the highest percentages of residents 65 and older in the state by the year 2032. Other challenges identified are limited child-care facilities, increasing substance abuse and a limited safety net for low-income and at-risk residents. The town's strengths were identified as a strong sense of community and a network of organizations that provide services here.
The summary of emerging themes is posted on the borough's website. It's also available in hard copy at the borough offices, the public library and at the Trees RV park and store.
Agnew Beck expects to release a draft comprehensive plan and harbor master plan by the end of this month and the consultants want to return in mid-May to share those drafts.