Petersburg's school board this month will be hearing information on proposed changes to the grading system in the high school.
The board has its regular monthly meeting Tuesday, May 12 at 7 p.m. and grading changes are one of the items on the agenda.
High school principal Rick Dormer will be updating the board on the proposed changes to student grade point averages and use of a weighted 5.0 scale for students taking advanced placement classes.
Beginning with next year's incoming freshman class, students will see plus and minus grades figuring into their grade point averages. Next year's freshmen class will also be the first to see a weighted five-point-O (5.0) grade scale for advanced placement classes to determine the top 10 percent of the class. That group is eligible for scholarship money to attend the University of Alaska.
Meanwhile, the district will also start using the weighted GPA to determine class rank and valedictorian beginning with the class of 2017. The district is seeking parent input on the proposed changes.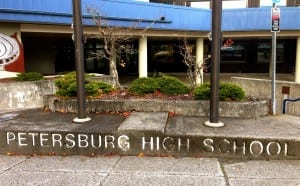 In other business, board members will be reviewing handbooks for the elementary, middle and high schools, along with a handbook covering technology use in the schools.
Up for a vote tonight is a new five-year contract for bussing students. The district received one proposal from the current contractor Stikine Services, the Petersburg company that has providing the service for the past 15 years. The cost of the contract is just over 193-thousand dollars a year.
The board will hear an update on Petersburg's comprehensive plan revision and will heard from the district's Indian education grant committee. Superintendent Erica Kludt Painter will also report on an online survey that's available on the district's website.
The school board meeting starts at 7 p.m. in borough assembly chambers and KFSK will broadcast the meeting live.