Petersburg's borough assembly approved camping at Sandy Beach next month for a group of performers, educators and chefs planning to visit.
The New Old Time Chautauqua may be bringing up to 55 people to Petersburg and other Southeast towns this summer. They'll be performing while they're in town and holding workshops.
Assembly member Kurt Wohlhueter is one of the local organizers for the visit. "This is a very diverse group of people," Wohlhueter said. "Anywhere from senior citizens to young children. So I don't see a bunch of rowdy people going to be at the park, tearing things up so. I see Donnie's done a really excellent job here of setting up some guidelines and I think if they would approve of those guidelines I don't think they'll be any problem."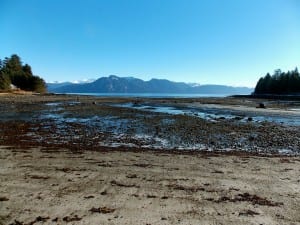 The group also will do service projects while it's here. Parks and Recreation director Donnie Hayes said he had some projects planned around Sandy Beach, including installation of some new barbecues and fire rings and other works around the park. Hayes was asked about whether the bathrooms at Sandy Beach could handle the number of campers. "When you have that many people not just coming to visit but camping there, and so you have your morning bathroom breaks, your evening bathroom breaks, your afternoon bathroom breaks, that's gonna be a lot of wear and tear on those facilities," Hayes said. "I suspect it will take a lot more cleaning for us to take care of."
Hayes thought it made sense for the group to camp at the park. He wanted to bring the issue to the assembly because of the size of the group. "When it's something as big as this, three days, possibly 55 people, with a large amount of use, plus the community coming in, a week before the fourth of July, I need it to be in a public forum, where the community has an opportunity to voice their concerns if there are any. And right now this is the forum that I have to be able to accomplish that."
The assembly voted 7-0 to approve the camping at Sandy Beach. The group plans to be in Petersburg June 28 through July 1st.