Officials on the Tongass National Forest are restricting logging activities because of the hot, dry weather and some lightning strikes in the region.
The forest has been placed on "Hoot Owl" restrictions, effective Friday, May 22nd. That means some logging work cannot take place during the afternoon and evening. The limitations are in place for the Craig and Thorne Bay districts on Prince of Wales Island along with the Wrangell ranger district.
Ted Sandhofer, a timber sale contracting officer for the agency, said those are the only districts where logging companies are currently active. "They can only haul, load and do some road construction work, they can't fall or yard within that time period," Sandhofer said, adding, "And they also have to have some fire watch people during that high temperature zone between 12 and 8 (p.m.)"
Sandhofer says the restrictions will continue until the region sees some rain. It's also possible all operations could be shutdown if hot, dry weather continues for a longer period. Sandhofer says he hasn't seen that kind of restriction during his career on the Tongass. He said the Hoot Owl notice has happened before but is earlier this year. "It's kind of a little different May is, I think this is the first time that I've been up here in my 20 years that we've implemented this in May," Sandhofer said. "It usually happens more in the summer months, June, July August."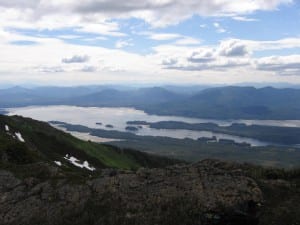 The Tongass has had two confirmed fires on the forest from lightning strikes. Tristan Fluharty Forest Fire management officer for the Tongass said one small fire burned on the central part of Kupreanof Island west of Petersburg. "One of em was in muskeg and got a little bit of rain and wasn't moving around too much," Fluharty said. "It looks like it was in pretty good shape. Another one's pretty inaccessible on top of Brown Mountain about five miles northeast of Ketchikan. And it's in pretty rugged inaccessible terrain. We we're able to get crews in there based on the steepness of the slope and the difficulty of travel through there. We've put some water drops on that fire. It wasn't doing anything when we left last night. But it hasn't been lined and fire crews haven't actually been to that fire." That fire near Ketchikan is small, just a tenth of an acre. However it is unusual for lightning strike fires on the rainforest, and especially for such a long, dry spell this early in the year.
"We're kindof in unprecedented territory as far as the weather is concerned," Fluharty said. "And the big thing is on the forest here the majority of fires are human caused fires and a lot of those human caused fires are abandoned camp fires. So we are really asking folks to take a little extra time and make sure their campfires are dead out before they leave 'em."
The forecast for the region remains warm and dry, meaning the Hoot Owl restrictions could continue into next week.